May 4 2021
Coronavirus (COVID-19) Update
Update- May 4, 2021
New York, New Jersey and Connecticut will Lift Most Industry Capacity Restrictions Beginning May 19 Given Vaccination Progress and COVID-19 Case Decline
Business Capacity Limits to Be Replaced with Space Available to Maintain Six Feet of Social Distancing on May 19 in New York and New Jersey
Outdoor Social Gathering Limit Increases to 500 on May 10 in New York; Indoor Social Gathering Limit Increases to 250 on May 19 in New York
Outdoor Residential Gathering Limit is Removed and Indoor Residential Gathering Limit Increases to 50 on May 19 in New York
Large-Scale Indoor Venue Capacity Increases to 30% and Large-Scale Outdoor Venue Capacity Increases to 33% on May 19, Proof of Vaccination or Recent Negative Test Still Required in New York
Update – April 23, 2021
Appointments are available for Friday, Saturday, Monday and Tuesday at Westchester Community College in Valhalla.
You must be 18 years of age or older to receive the Moderna vaccine, and must also be able to return to WCC 28 days after your first dose to receive a second dose.
Click on the hyperlinks below to schedule:
To assist residents with getting vaccinated, the Westchester County Department of Health has been regularly posting links on its website www.westchestergov.com/health for vaccine clinics.  If you need assistance registering, please call 914-995-7425.
Update – April 13, 2021
New York State Health Commissioner Dr. Howard Zucker issued a statement regarding the Johnson & Johnson vaccine, following the CDC and the FDA recommending a pause in the use of the J&J vaccine out of an abundance of caution. New York State will follow this recommendation and pause the use of the J&J vaccine statewide immediately today (April 13) while these health and safety agencies evaluate next steps. All appointments scheduled for April 13 for the J&J vaccine at State mass vaccination sites will be honored with the Pfizer vaccine. Read the full statement.
UPDATE March 29, 2021 : Governor Andrew M. Cuomo announced a new expansion of COVID-19 vaccine eligibility in New York. Beginning Tuesday, March 30, all New Yorkers 30 years of age and older will be eligible to receive the vaccine. Beginning April 6, universal eligibility goes into effect and all New Yorkers 16 years of age and older will be eligible to receive the vaccine.
Additionally, the Governor announced more than 2 million total COVID-19 vaccine doses have been administered at New York State-run and FEMA-assisted mass vaccination sites. Statewide, more than 9 million total doses have been administered across all vaccination sites. 171,419 doses have been administered across the state's vast distribution network in the last 24 hours, and more than 1.3 million doses have been administered over the past seven days. Delivery of the week 16 allocation begins mid-week.
UPDATE March 10,2021:  Governor Cuomo announced the eligibility of the COVID-19 vaccine for New Yorkers 60 Years and older beginning March 10.
Vaccine Distribution Eligibility Expanded; All Providers Except Pharmacies Can Now Vaccinate Any Eligible New Yorker Starting March 17; Pharmacies Can Vaccinate 60-plus and Teachers Per Federal Guidance Starting March 10
Beginning March 17, 2021 the following essential workers will now be eligible to begin receiving the COVID-19 vaccine:
Public-facing government and public employees
Not-for-profit workers who provide public-facing services to New Yorkers in need
Essential in-person public-facing building service workers
This includes workers such as public works employees, social service and child service caseworkers, government inspectors, sanitation workers, DMV workers, County Clerks, building service workers and election workers – the everyday heroes who have been showing up day in and day out throughout this pandemic.
New Yorkers Can Make Appointments at State-Run Vaccination Sites by Utilizing New York's 'Am I Eligible' Tool or Calling 1-833-NYS-4-VAX
UPDATE February 12, 2021:  We all welcomed the recent news by Governor Cuomo announcing the eligibility of the COVID-19 vaccine for people with comorbidities, including those with intellectual and developmental disabilities. I wish to share some information that may assist with vaccine location options for your family member.
WIHD (Westchester Institute for Human Development), located on the Westchester Medical Center Campus in Valhalla, has been identified as a certified vaccine distribution location.
Anyone with I/DD, regardless of where they live, is eligible to receive the vaccine as of February 15, 2021.
You can sign up on WIHD's website to be notified when a vaccine appointment will be available.
When filling out their sign up form, be sure to select "People With Underlying Conditions" in the drop-down menu.
Due to vaccine shortages, if you have an appointment elsewhere, it is recommended you keep it.
On February 15 you will also be able to register at any other location in New York State for the vaccine. Go to the NYS website for locations near you and read important vaccine instructions. Please note that The Arc Westchester locations are not allowed to administer the COVID-19 vaccine.
We are all making important steps together to combat COVID-19 by increasing the availability of the vaccine to more people in our communities. We are grateful to WIHD for this opportunity. Please feel free to share any comments or questions you may have by clicking here. Thank you for your ongoing advocacy and support.
Update: February 5, 2021: GREAT NEWS! The Governor's Office has announced that ALL Individuals with I/DD in New York State will be eligible for vaccinations BEGINNING ON February 15, 2021. This announcement means that ALL the people we support will be eligible for the COVID-19 vaccine in just 10 days.
The full announcement from the Governor's office can be found here. Please read this announcement carefully as it shares comorbidities and underlying conditions that New York State will use to determine eligibility for the COVID-19 vaccine. We have fought hard to ensure priority access to the vaccine for all people we support. This is a huge victory.
At this time, we are still facing challenges with vaccine supply and appointment availability, but I am hopeful that will also work out. Please be advised that The Arc Westchester is unable to provide the vaccine, and we do not have any additional information on available locations.
We thank everyone for all the advocacy and support as we continue to make a difference in the lives of the individuals we support and our dedicated workforce. We all know that the vaccine is our best defense in combating COVID-19 and saving lives.
The COVID-19 vaccine is HERE! We are so proud that The Arc Westchester has already successfully vaccinated over 150 individuals and staff.  The Arc Westchester was among the first of The Arc New York chapters to receive Phase 1A of the vaccine on December 29, 2020. Additional phases are rolling out and plans are underway to make the vaccine available to all of our residents, individuals we support, and staff when allowed.  We will keep you posted when we receive more information. Please click here to learn how you can help advocate to increase vaccine availability to all people with developmental disabilities in New York State.
The scientific research suggests that the vaccine is safe and is critical in stopping the devastating effects of COVID-19.  It is our single best solution to improving the health crisis, and returning back to our previous and full time way of delivering services. We highly encourage families and caregivers to learn more about the benefits of receiving the vaccination.
The Arc Westchester has launched a COVID-19 Vaccine Education Plan to share information to our staff about the benefits of receiving the vaccine.  Watch our video and hear from one of our first vaccine recipients as she shares her personal remarks about the importance of receiving the COVID-19 vaccine.
The vaccine is available to more of our community, however, we must continue to practice all safety protocols to ensure the health and safety of the individuals we support, our staff, and the community.  We hope you will take advantage of the variety of innovative services whether in-person or remote to keep your family member happy, safe, and engaged.  Please feel free to reach out to us for more information and thank you for your ongoing trust and support.
Congratulations to our first COVID-19 recipients!
Update 1-28-2021: Gov. Andrew Cuomo has lifted micro-cluster zone restrictions for all of the state's 26 orange and yellow zones except for five, citing ongoing declines in positivity and hospitalization rates across the board. He is not tweaking New York City's indoor dining ban just yet, calling that an ongoing and "city-specific" issue.  Lifting most of state's color-coded micro-cluster zones, which apply varying rules to schools, businesses, mass gatherings and houses of worship based on risk and haven't been changed in more than a month, is a significant step forward.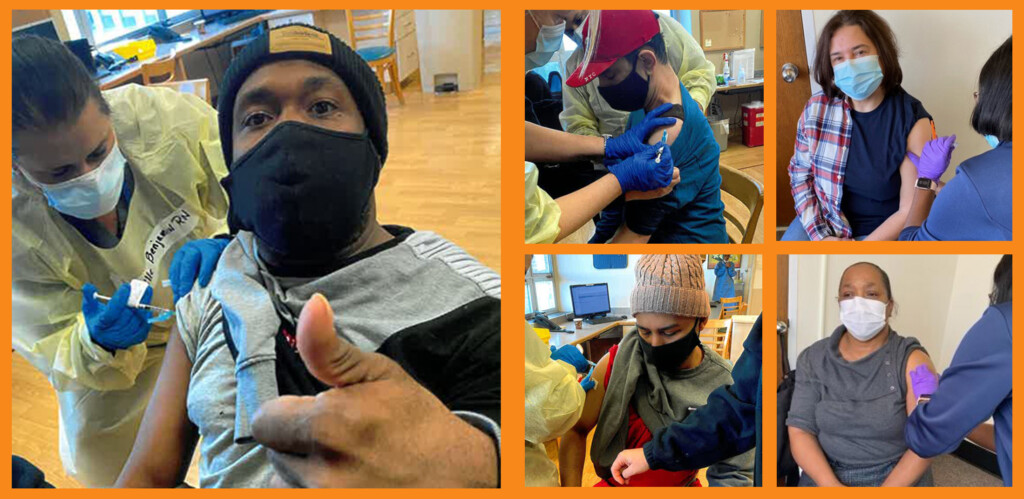 NYS DOH
FREE COVID-19 TESTING available for ESSENTIAL HEALTHCARE WORKERS in New York State through the NYS DOH. You can make an appointment to be tested at one of several drive through or walk in testing sites by calling the COVID-19 Hotline at 1-888-364-3065 or online at https://covid19screening.health.ny.gov/
---
Below you will find some of our reopening plans to programs and services as we gradually reopen our in-person services. We understand that this is a stressful situation, filled with much waiting and uncertainty. We hope that our continued communication and transparency helps to keep us all grounded and safe during this difficult time. Please follow the links below that we update regularly. Together, we will get through this. Together, we are stronger!
As many people in the United States begin to plan for fall and winter holiday celebrations and family gatherings, the CDC offers the following considerations to help protect individuals and their families, friends, and communities from COVID-19.
Our 2019 Annual Report is a special edition celebrating the outstanding staff and direct support professionals (DSPs) who have been going above and beyond to ensure the health and safety of our individuals during COVID-19.
As we emerge from lockdown and work our way through the various stages of reopening, we remain thankful for their dedication, flexibility and unwavering commitment to those we support. Read report here →
The Arc Westchester Family suffered the loss of some very special people from  COVID-19. We pay tribute to those we lost during this difficult time. They will be always be in our hearts.
To help understand Coronavirus (COVID-19) in simpler terms, check out this COVID-19 Plain Language Flyer .
This flyer was provided by the New York State Office of People with Developmental Disabilities (OPWDD).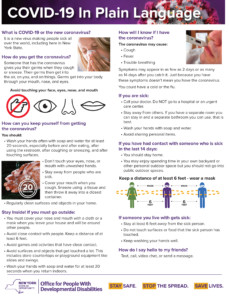 I want to share with you the impact that Coronavirus is having on all of us at The Arc Westchester. We are experiencing one of the most difficult times our organization has ever been through in our 70-year history. With all of your help and support, we will get through this and all of us will be stronger because of it.
As a reminder, all family members and employees of The Arc Westchester who are ill should refrain from visiting an Arc Westchester location or any public location in the community as directed by the New York State Health Department.
The Arc Westchester is prepared to take any necessary steps as additional information comes to us from local officials.  Please reach out to your staff contact at The Arc Westchester with questions pertaining to you or your loved one or visit our contact page and send us a note. We welcome your comments and suggestions. You will also find links on our website to articles of interest, resources and learning activities and our AT HOME series of our amazing staff and how they are keeping individuals engaged during this pandemic.