Feb 12 2021
Coronavirus (COVID-19) Update
Update: February 5, 2021: GREAT NEWS! The Governor's Office has announced that ALL Individuals with I/DD in New York State will be eligible for vaccinations BEGINNING ON February 15, 2021. This announcement means that ALL the people we support will be eligible for the COVID-19 vaccine in just 10 days.
The full announcement from the Governor's office can be found here. Please read this announcement carefully as it shares comorbidities and underlying conditions that New York State will use to determine eligibility for the COVID-19 vaccine. We have fought hard to ensure priority access to the vaccine for all people we support. This is a huge victory.
At this time, we are still facing challenges with vaccine supply and appointment availability, but I am hopeful that will also work out. Please be advised that The Arc Westchester is unable to provide the vaccine, and we do not have any additional information on available locations.
We thank everyone for all the advocacy and support as we continue to make a difference in the lives of the individuals we support and our dedicated workforce. We all know that the vaccine is our best defense in combating COVID-19 and saving lives.
The COVID-19 vaccine is HERE! We are so proud that The Arc Westchester has already successfully vaccinated over 150 individuals and staff.  The Arc Westchester was among the first of The Arc New York chapters to receive Phase 1A of the vaccine on December 29, 2020. Additional phases are rolling out and plans are underway to make the vaccine available to all of our residents, individuals we support, and staff when allowed.  We will keep you posted when we receive more information. Please click here to learn how you can help advocate to increase vaccine availability to all people with developmental disabilities in New York State.
The scientific research suggests that the vaccine is safe and is critical in stopping the devastating effects of COVID-19.  It is our single best solution to improving the health crisis, and returning back to our previous and full time way of delivering services. We highly encourage families and caregivers to learn more about the benefits of receiving the vaccination.
The Arc Westchester has launched a COVID-19 Vaccine Education Plan to share information to our staff about the benefits of receiving the vaccine.  Watch our video and hear from one of our first vaccine recipients as she shares her personal remarks about the importance of receiving the COVID-19 vaccine.
The vaccine is available to more of our community, however, we must continue to practice all safety protocols to ensure the health and safety of the individuals we support, our staff, and the community.  We hope you will take advantage of the variety of innovative services whether in-person or remote to keep your family member happy, safe, and engaged.  Please feel free to reach out to us for more information and thank you for your ongoing trust and support.
Congratulations to our first COVID-19 recipients!
Update 1-28-2021: Gov. Andrew Cuomo has lifted micro-cluster zone restrictions for all of the state's 26 orange and yellow zones except for five, citing ongoing declines in positivity and hospitalization rates across the board. He is not tweaking New York City's indoor dining ban just yet, calling that an ongoing and "city-specific" issue.  Lifting most of state's color-coded micro-cluster zones, which apply varying rules to schools, businesses, mass gatherings and houses of worship based on risk and haven't been changed in more than a month, is a significant step forward.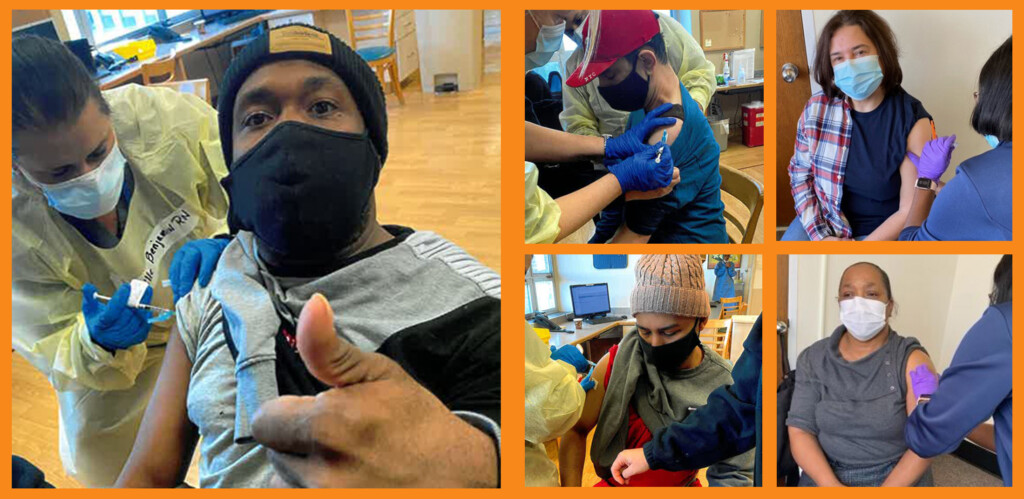 NYS DOH
FREE COVID-19 TESTING available for ESSENTIAL HEALTHCARE WORKERS in New York State through the NYS DOH. You can make an appointment to be tested at one of several drive through or walk in testing sites by calling the COVID-19 Hotline at 1-888-364-3065 or online at https://covid19screening.health.ny.gov/
---
Below you will find some of our reopening plans to programs and services as we gradually reopen our in-person services. We understand that this is a stressful situation, filled with much waiting and uncertainty. We hope that our continued communication and transparency helps to keep us all grounded and safe during this difficult time. Please follow the links below that we update regularly. Together, we will get through this. Together, we are stronger!
As many people in the United States begin to plan for fall and winter holiday celebrations and family gatherings, the CDC offers the following considerations to help protect individuals and their families, friends, and communities from COVID-19.
Our 2019 Annual Report is a special edition celebrating the outstanding staff and direct support professionals (DSPs) who have been going above and beyond to ensure the health and safety of our individuals during COVID-19.
As we emerge from lockdown and work our way through the various stages of reopening, we remain thankful for their dedication, flexibility and unwavering commitment to those we support. Read report here →
The Arc Westchester Family suffered the loss of some very special people from  COVID-19. We pay tribute to those we lost during this difficult time. They will be always be in our hearts.
To help understand Coronavirus (COVID-19) in simpler terms, check out this COVID-19 Plain Language Flyer .
This flyer was provided by the New York State Office of People with Developmental Disabilities (OPWDD).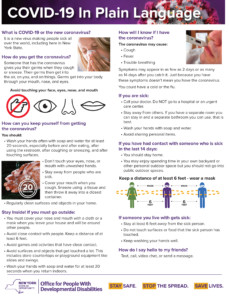 I want to share with you the impact that Coronavirus is having on all of us at The Arc Westchester. We are experiencing one of the most difficult times our organization has ever been through in our 70-year history. With all of your help and support, we will get through this and all of us will be stronger because of it.
As a reminder, all family members and employees of The Arc Westchester who are ill should refrain from visiting an Arc Westchester location or any public location in the community as directed by the New York State Health Department.
The Arc Westchester is prepared to take any necessary steps as additional information comes to us from local officials.  Please reach out to your staff contact at The Arc Westchester with questions pertaining to you or your loved one or visit our contact page and send us a note. We welcome your comments and suggestions. You will also find links on our website to articles of interest, resources and learning activities and our AT HOME series of our amazing staff and how they are keeping individuals engaged during this pandemic.