Nov 19 2020
Coronavirus (COVID-19) Update
NYS DOH
FREE COVID-19 TESTING available for ESSENTIAL HEALTHCARE WORKERS in New York State through the NYS DOH. You can make an appointment to be tested at one of several drive through or walk in testing sites by calling the COVID-19 Hotline at 1-888-364-3065 or online at https://covid19screening.health.ny.gov/
---
Below you will find some of our reopening plans to programs and services as we gradually prepare for the weeks and months ahead. We understand that this is a stressful situation, filled with much waiting and uncertainty. We hope that our continued communication and transparency helps to keep us all grounded and safe during this difficult time. Please follow the links below that we update regularly. Together, we will get through this. Together, we are stronger!
As many people in the United States begin to plan for fall and winter holiday celebrations and family gatherings, the CDC offers the following considerations to help protect individuals and their families, friends, and communities from COVID-19.
Our 2019 Annual Report is a special edition celebrating the outstanding staff and direct support professionals (DSPs) who have been going above and beyond to ensure the health and safety of our individuals during COVID-19.
As we emerge from lockdown and work our way through the various stages of reopening, we remain thankful for their dedication, flexibility and unwavering commitment to those we support. Read report here →
The Arc Westchester Family suffered the loss of some very special people from  COVID-19. We pay tribute to those we lost during this difficult time. They will be always be in our hearts.
To help understand Coronavirus (COVID-19) in simpler terms, check out this COVID-19 Plain Language Flyer .
This flyer was provided by the New York State Office of People with Developmental Disabilities (OPWDD).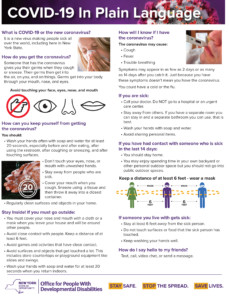 I want to share with you the impact that Coronavirus is having on all of us at The Arc Westchester. We are experiencing one of the most difficult times our organization has ever been through in our 70-year history. With all of your help and support, we will get through this and all of us will be stronger because of it.
As a reminder, all family members and employees of The Arc Westchester who are ill should refrain from visiting an Arc Westchester location or any public location in the community as directed by the New York State Health Department.
The Arc Westchester is prepared to take any necessary steps as additional information comes to us from local officials.  Please reach out to your staff contact at The Arc Westchester with questions pertaining to you or your loved one or visit our contact page and send us a note. We welcome your comments and suggestions. You will also find links on our website to articles of interest, resources and learning activities and our AT HOME series of our amazing staff and how they are keeping individuals engaged during this pandemic.