Our leading edge programs for people with developmental disabilities are made possible through significant gifts from private foundation and business sectors.
Matching Gifts
You can increase the impact of your gift to The Arc Westchester by participating in your company's Matching Gift Program. Many organizations will match your gift on a 1:1 basis and even have options for part-time and retired employees to participate. Use our search tool below to look up your company and apply your gift to their specific program.
If you have questions, please contact Elyse Fowler at efowler@arcwestchester.org
How to make a matching gift:
Use our search tool below to navigate to your company's giving site
Complete the appropriate section(s) of the online request or send the required forms to The Arc Westchester at the address below
Your company will send the matching gift to The Arc Westchester once they receive our verification
Important information to complete your matching gift
The Arc Westchester Foundation Employer Identification Number or EIN: 13-422351
Mailed gifts and forms can be sent to the following address:
The Arc Westchester Foundation
Matching Gifts
265 Saw Mill River Road,
Hawthorne, NY 10532
ATTN: Elyse Fowler, Director of Individual Giving
The Arc Westchester Matching Gift Contact Information:
Email: Giving@arcwestchester.org
Phone: 914-495-4515
Corporate Volunteer Opportunities
Looking for a team-building opportunity and a chance to make a difference in our community? A day of volunteerism is a great way to leave a lasting impression on both your corporate community and the participants in our programs. Work with The Arc Westchester to help design a meaningful day experience for you and your staff. Together, we will encourage personal choice, socialization, and the ability of individuals to express themselves through various activities.
To learn more, please contact Todd Bazzini, Director of Volunteer Services and Fund Development, TBazzini@arcwestchester.org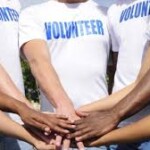 The Arc Westchester is a qualified 501 (c) (3) non-profit organization under IRS code. Contributions are tax-deductible. The Arc Westchester will work with your corporation to ensure that your philanthropic efforts on behalf of people with developmental disabilities are targeted to a project or program that best fits your organization's giving philosophy.