Sep 29 2022

National Disability Employment Awareness Month 2022
October is National Disability Employment Awareness Month (NDEAM)
Disability: Part of the Equity Equation
In recognition of the important role people with disabilities play in a diverse and inclusive American workforce, the theme for National Disability Employment Awareness Month (NDEAM) 2022 is "Disability: Part of the Equity Equation." Observed annually in October, NDEAM celebrates the contributions of America's workers with disabilities past and present and showcases supportive, inclusive employment policies and practices.
No one knows better about promoting equity and inclusion than The Arc Westchester. Our goal is for each individual we support to live up to their potential and pursue their dreams. We have joined with so many businesses to share the benefits of a diverse workforce in our communities. It is a win-win partnership for everyone, especially the people we support. In 2021, The Arc Westchester hosted a virtual panel discussion that focused on the benefits how hiring individuals with disabilities can contribute to business goals, inspire a workforce and add to company culture. "Diversity, Equity & Inclusion: Successful Strategies and Business Benefits of Hiring People with Developmental Disabilities" was the topic moderated by Dr. Marsha Gordon, The Business Council of Westchester and President/CEO. Members of the panel included Sally Paull, Senior Vice President/Chief Human Resources Officer, Regeneron; Tibi Guzmán, Executive Director/CEO, The Arc Westchester; Anthony Justic, Managing Partner, Maier Markey & Justic LLP; Sean Meade, General Manager, Cambria Hotels & Suites; and Scott Pearl, Managing Director, Digital Eye Lab at ABB Optical Group. Click here to view the video
Our Flagship Employer Receives State Recognition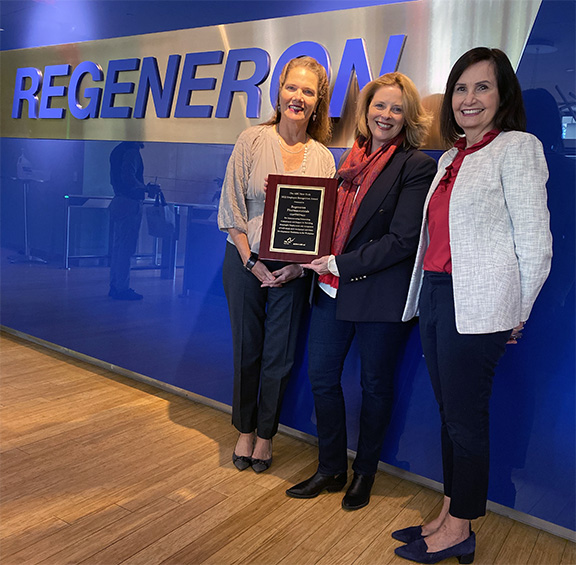 One of The Arc Westchester's longstanding employment partners, Regeneron Pharmaceuticals, was presented with The Arc New York's Employer Recognition Award in a virtual ceremony this July. From right, Tibi Guzman, Executive Director/CEO presented the award in person to Sally Paull, Executive Vice President/Chief Human Resources Officer at Regeneron along with Nancy Patota, Executive Director, The Arc Westchester Foundation at the company's headquarters in Tarrytown.   Read about the award >
Below are some members of the Regeneron team. During the pandemic, Regeneron continued to pay all employees, including the people we support, regardless of if they were actively working, or not. This is a true testament to the company's mission, and they are an example for all businesses to follow.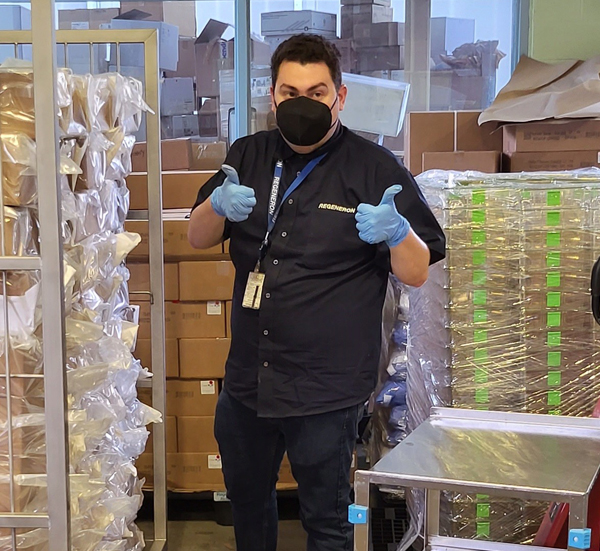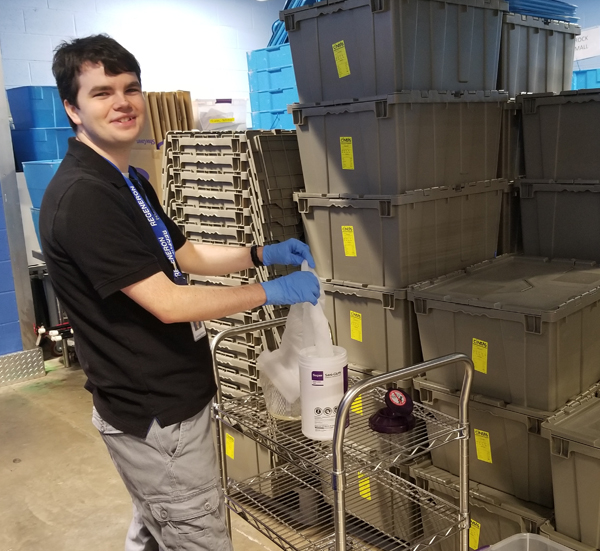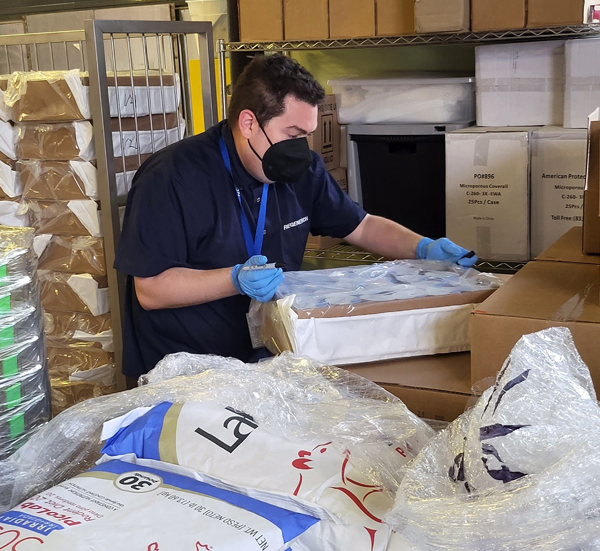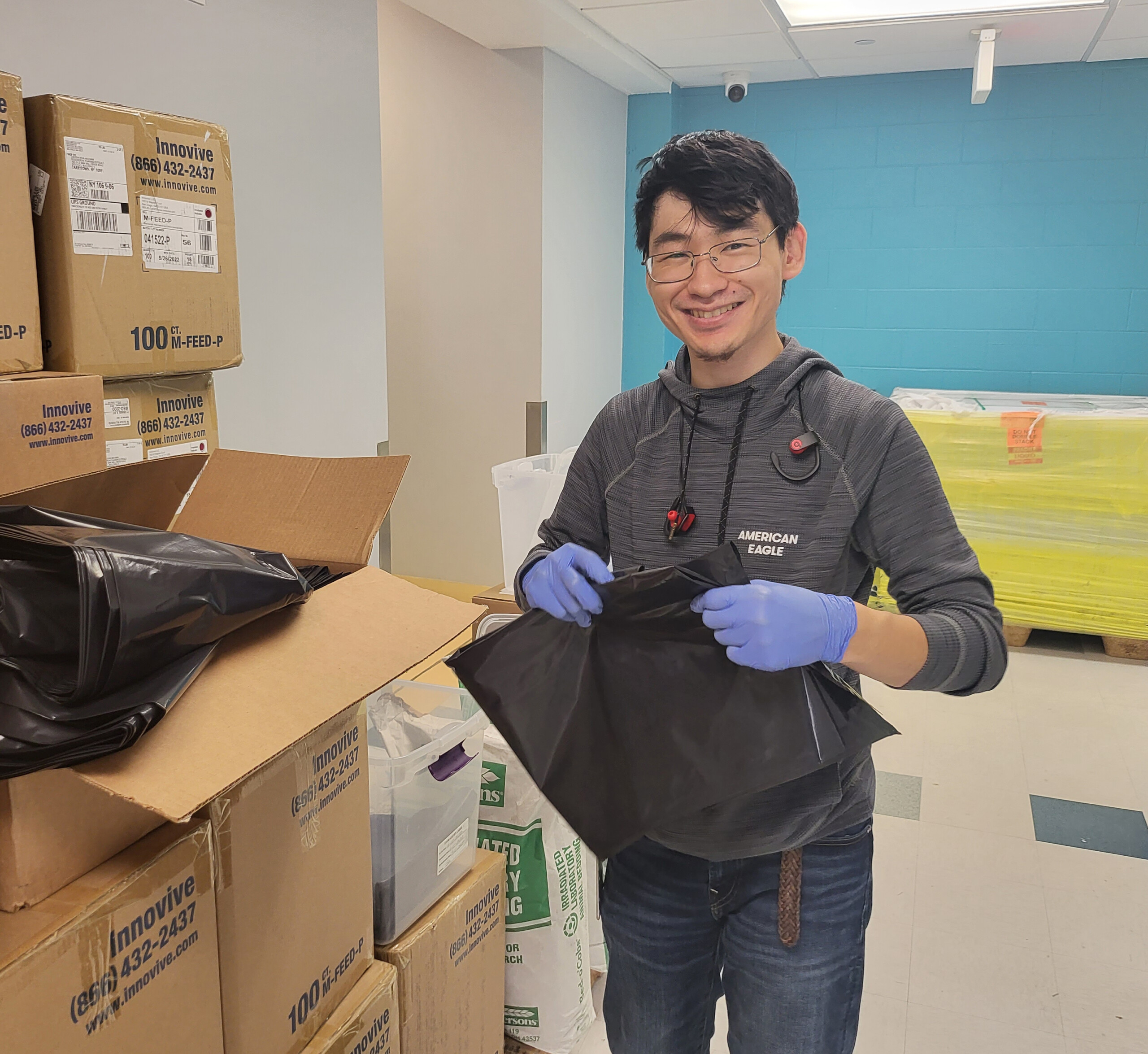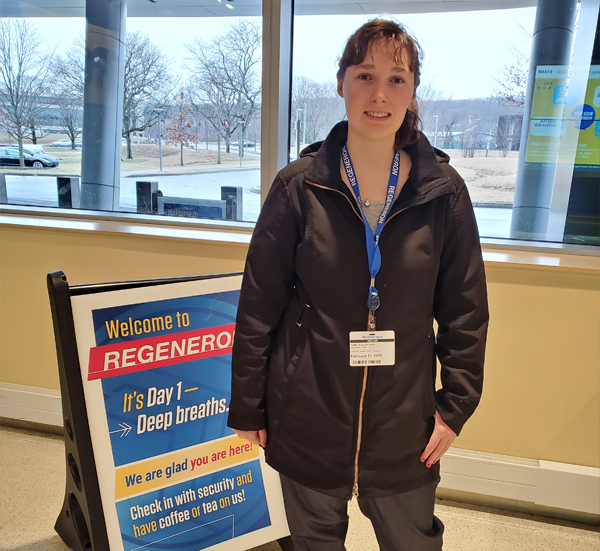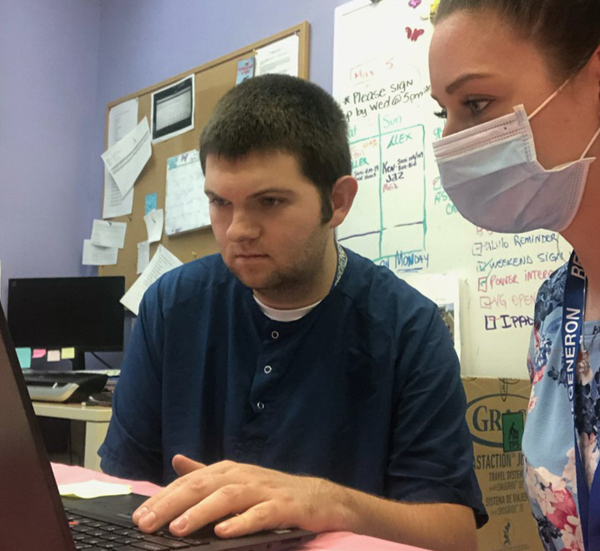 Zaro's Family Bakery: Another Ambassador!
Another exceptional business partner is Zaro's, a well-known fourth-generation family bakery,  When they moved into Westchester earlier in 2021, they hired seven individuals from The Arc Westchester's Career and Employment program. They introduced a new hiring process by encouraging work interviews on-site. This allows a clear assessment of skills before our individuals are placed, ensuring they are comfortable with the task of the job.  This helps lay the foundation for success! They have been a wonderful partner, focusing on the abilities of our individuals and finding roles where they can be thrive. Among the tasks, some of our individuals are currently packing bread, making popcorn along with boxing cookies and cakes. Coming this fall, Zaro's will host a booth at the famous Holiday Shops at Bryant Park in NYC. They will unveil several new versions of the famous black and white cookie! Their booth will not only share the benefits of hiring people with developmental disabilities, but 10% of the proceeds will also go to programs and supports at The Arc Westchester.  More details to follow!!!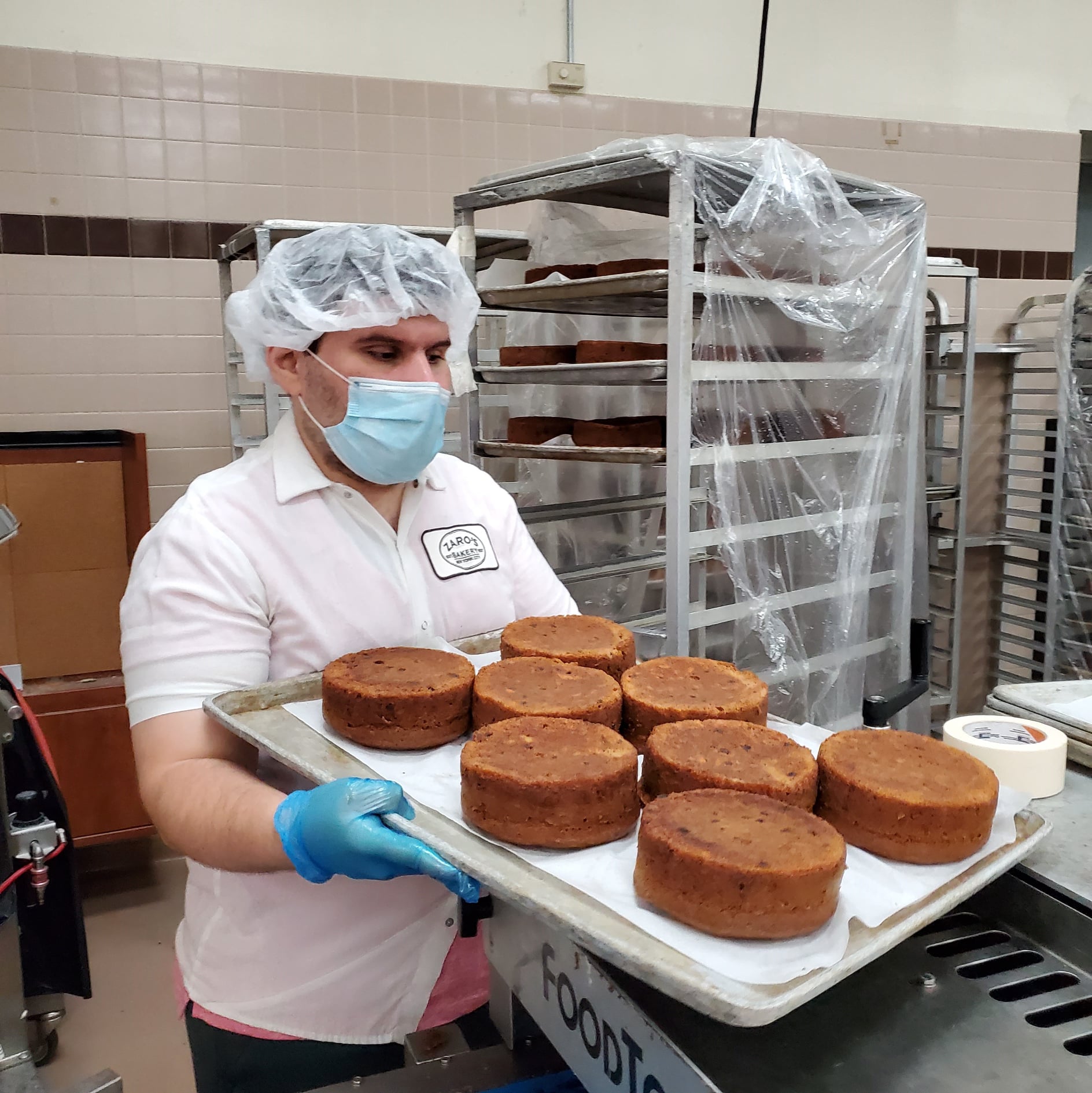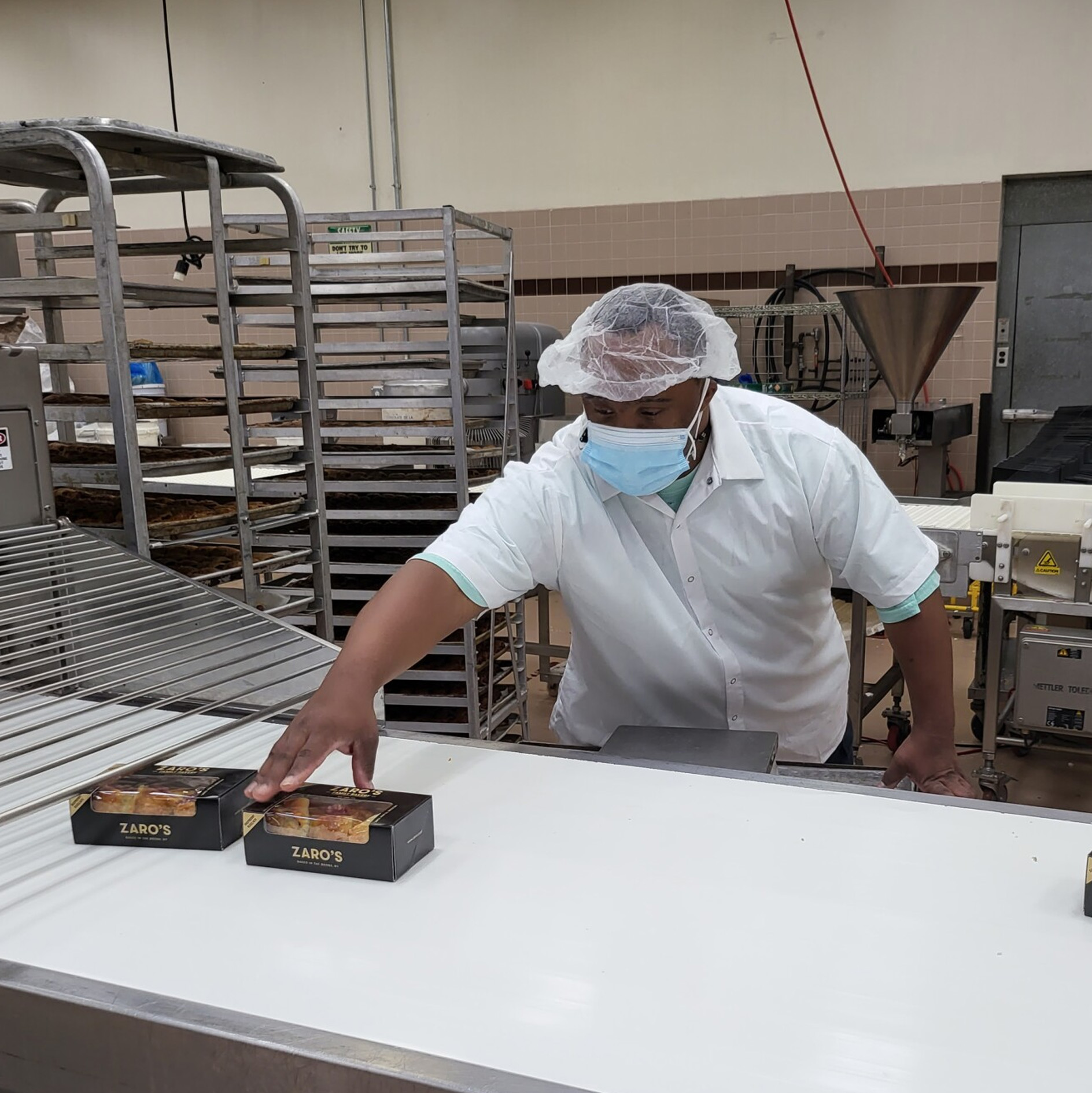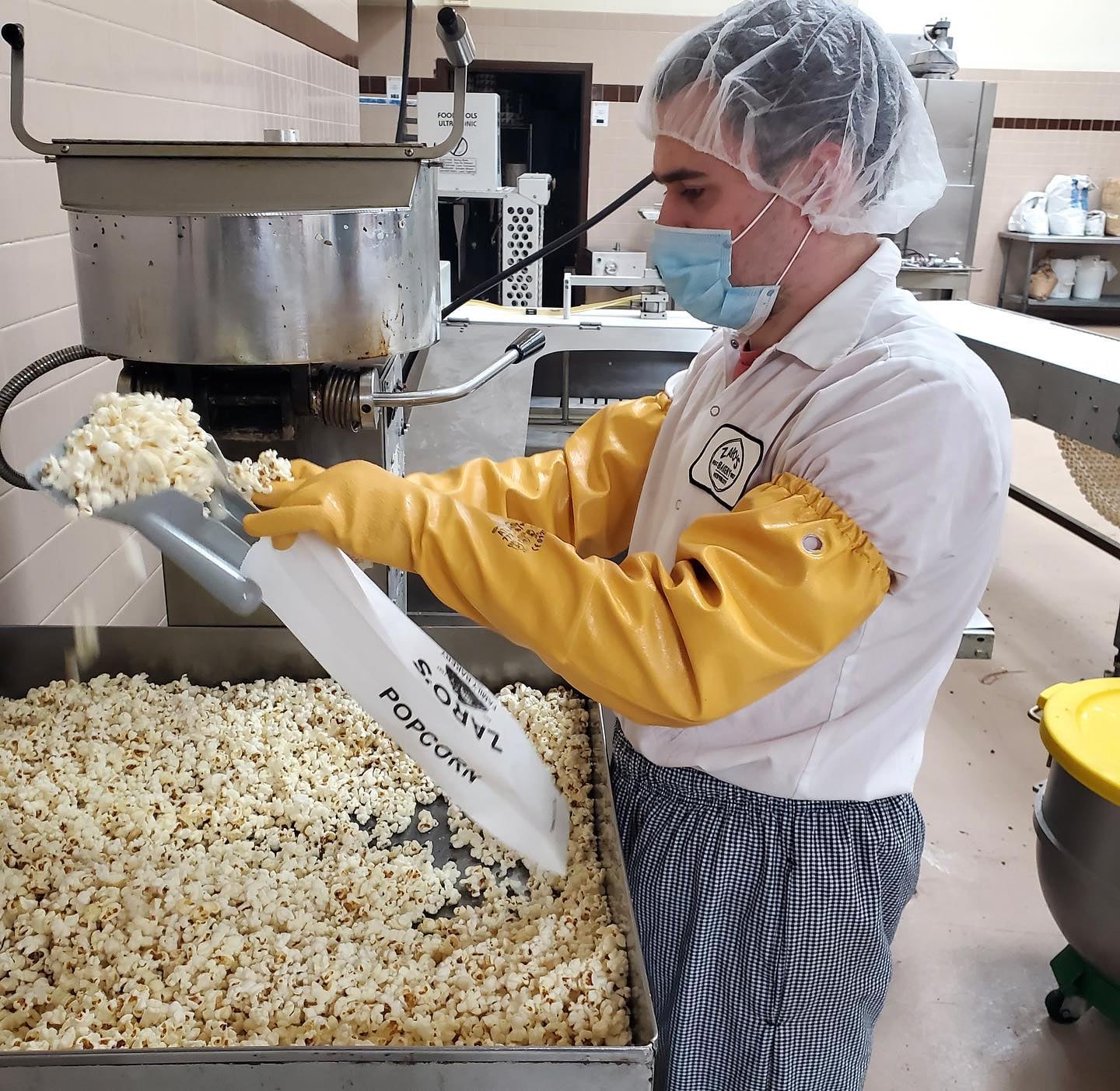 Thanks to ALL our Business Partners!
Each one of our employment partners plays an important role in the diversity of our community's workforce. We are so proud to partner with each one of them.  They provide our team the ability to work with each individual and seek work that meets a candidate's skills and interests while addressing the business staffing need. We are the bridge between the employer and the employee assisting both parties with a successful job match by practicing the steps below.
Job candidates utilize a video practicing tool to sharpen their productivity and accuracy.
Interviews take place in-person or by a hands-on demonstration.
A step-by-step task schedule assists with mastering job responsibilities once the candidate is hired.
No one job fits all, but successful outcomes are developed with a person-centered approach.
We then ensure that once hired, an Arc Westchester job candidate is integrated into the new workplace. We stay involved with our employees and employer partners every step of the way. For those employees who need regular assistance, a job coach is always on hand to help them perform their daily tasks and address any needs they may have.
Our Employment Program doesn't simply help people find work, we develop opportunities for individuals to achieve fulfilling and rewarding careers in our communities.
Want to learn more about hiring people with developmental disabilities?
Contact Shari Lewitt, slewitt@arcwestchester.org.