Aug 26 2022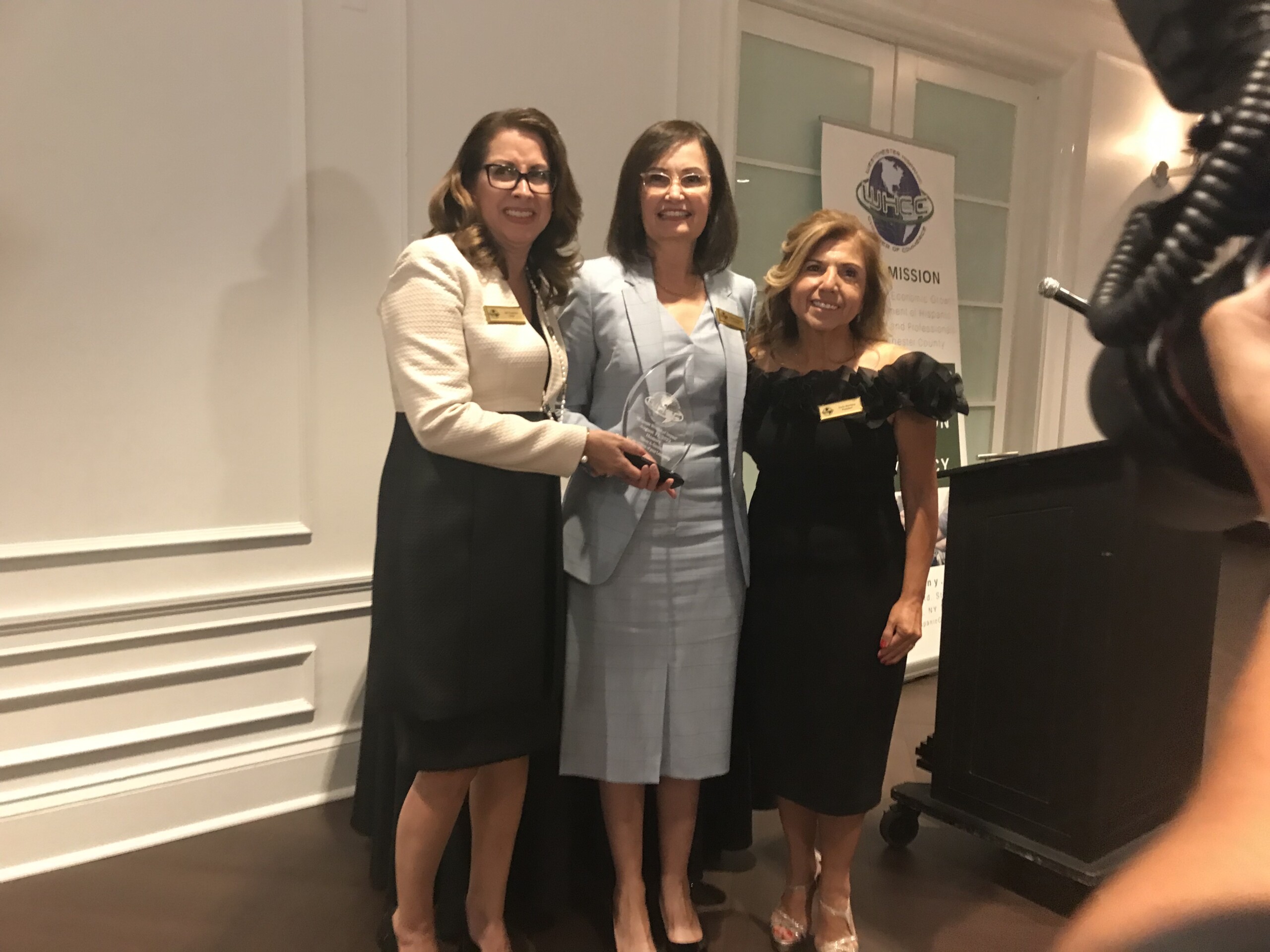 Executive Director & CEO Tibi Guzmán receives award from Hispanic Chamber of Commerce
The Arc Westchester is proud and excited to share that Executive Director & CEO Tibi Guzmán recently received The Hispanic Women of Impact Award from The Westchester Hispanic Chamber of Commerce. Ms. Guzmán was one of six outstanding women recognized on August 17th. All have promoted the economic growth and development of Hispanic businesses and professionals in Westchester County.
The Chamber recognized Ms. Guzmán for being a "[S]teadfast advocate for those served and working in the DD field to have a voice and promotes an atmosphere of recognition and achievement for all."
"Our honorees exemplify women of determination and tenacity. They blaze a trail as successful leaders and entrepreneurs in business, education, community, and government. Elena, Carmen, Omayra, Corazon, Ayde, Tibi are powerful role models and mentors. Felicidades!" –
Westchester Hispanic Chamber of Commerce
The WHCC supports to over 2,500 Hispanic business owners throughout Westchester County. The Chamber provides consultation through a network of specialized businesses and professionals. The Arc Westchester is grateful for the Chamber's recognition of our Executive Director and CEO, and congratulates all who were recognized for their incredible achievements and contributions!
The Arc Westchester's Business Community Partnerships
The Arc Westchester is proud to have worked with hundreds of local businesses, throughout Westchester County, for years. Our partnerships provide allow for incredible volunteer and employment opportunities. View some highlights of the power of these partnerships, and our efforts in providing employment and career services below:
One of The Arc Westchester's longstanding employment partners, Regeneron Pharmaceuticals, has been honored with The Arc New York's Employer Recognition Award. Tibi Guzman, Executive Director/CEO presented the award to Sally Paull, Executive Vice President/Chief Human Resources Officer at Regeneron during a virtual awards ceremony on July 28th.
Learn more about this award, and our partnership with Regeneron, here!
On June 21st, eight participants of our Project SEARCH Autism Enhancement program graduated from their internship positions, celebrating their achievements with parents and loved ones in a small ceremony at the New York-Presbyterian Westchester Behavioral Health Center in White Plains. Project SEARCH Autism Enhancement (PS-AE) is a ten-month internship program for young adults with Autism Spectrum Disorder.
Learn more about Project SEARCH, and the graduation ceremony,  here!
Volunteering is at the heart of The Arc Westchester's mission to foster community and business relationships throughout Westchester County. We are always excited when we have an opportunity to organize a corporate volunteering event. Our latest events featured three valued friends and corporate partners: Morgan Stanley, IBM, and Webster Bank.
Learn more about these volunteer events, and how your business can get involved, here!