Jun 26 2022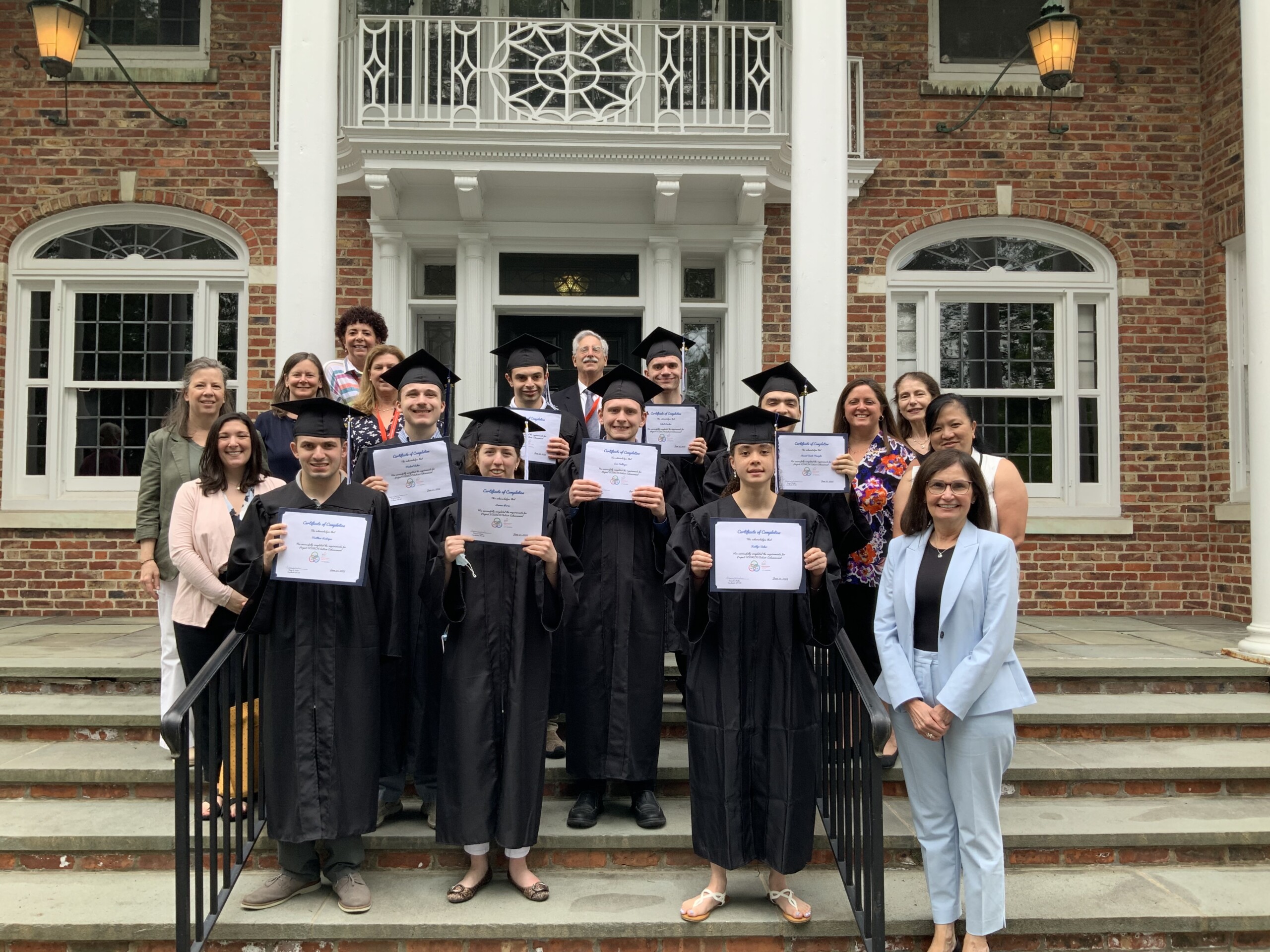 Project SEARCH Autism Enhancement Graduation 2022!
On June 21st, eight participants of our Project SEARCH Autism Enhancement program graduated from their internship positions, celebrating their achievement with parents and loved ones in a small ceremony at the New York-Presbyterian Westchester Behavioral Health Center in White Plains.
Project SEARCH Autism Enhancement (PS-AE) is a ten-month internship program for young adults with Autism Spectrum Disorder. It was created by NEXT for AUTISM in partnership with The Arc Westchester, New York-Presbyterian Behavioral Health Center, and The Center for Autism and the Developing Brain (CADB) and is supported by the Office for People with Developmental Disabilities (OPWDD). PS-AE offers a total immersion in the workplace, facilitating the teaching and learning process, as well as the acquisition of employability and marketable work skills.
Guest speakers included Dr. Philip Wilner, Senior VP and COO, New York-Presbyterian Westchester Behavioral Health Center, Jennifer Papas, Project Search Autism Enhancement Business Advisory Council Member, and Chief Administrative Office, Mavis Tire Express Service Corp., and our own Tibi Guzman, Executive Director and CEO, The Arc Westchester. Each spoke to the passion and hard work displayed by the eight graduates, and congratulated them on their teamwork and desire to pursue meaningful employment in our communities.
It has been my privilege to watch these eight interns grow to become confident and proud graduates who are ready for employment and successful independent lives. The skills they learned and practiced in the PSAE Training Room and at their internship sites at NewYork Presbyterian Behavioral Health Center have prepared the for meaningful employment. I have enjoyed every moment with these young men and women, congratulate them on their achievements, and wish them well in their future endeavors.
This is probably my favorite day of the year! We're celebrating people for whom we are giving a future. I was so taken by the excitement and enthusiasm that everyone has about their future, it's very inspiring. It's a tribute to our team, our partners The Arc Westchester and NEXT for Autism, who have been with us from the beginning, who envisioned this as an opportunity to give people a chance to look forward and build on their strengths and independence.
We're celebrating our 10th year of Project SEARCH Autism Enhancement – We at The Arc Westchester is filled with enormous pride as we watch their employment skills grow, and eager to support them on their path to further employment. This represents a year of recovery for all of us, it has not been an easy journey for any of us. Preparing our interns to succeed with these transitions is made possible thanks to our dedicated and committed team of professionals. I truly really humbled to be part of this organization.
The six young men and two young women then shared about their individual internships, what they learned from each unique experience and their goals for what they would like to accomplish in the future. They made a video presentation of the year in review and each graduate addressed the guests and thanked their staff, internship supervisors, and families for supporting them during this journey. Afterward, The Arc Westchester's PS-AE Coordinator Nancy Fraher, and Director of Career Development and Support, Shari Lewitt, presented each graduate with certificates to officially recognize their completion of the program.
Our 2022 Project SEARCH Graduation Class!