Sep 9 2023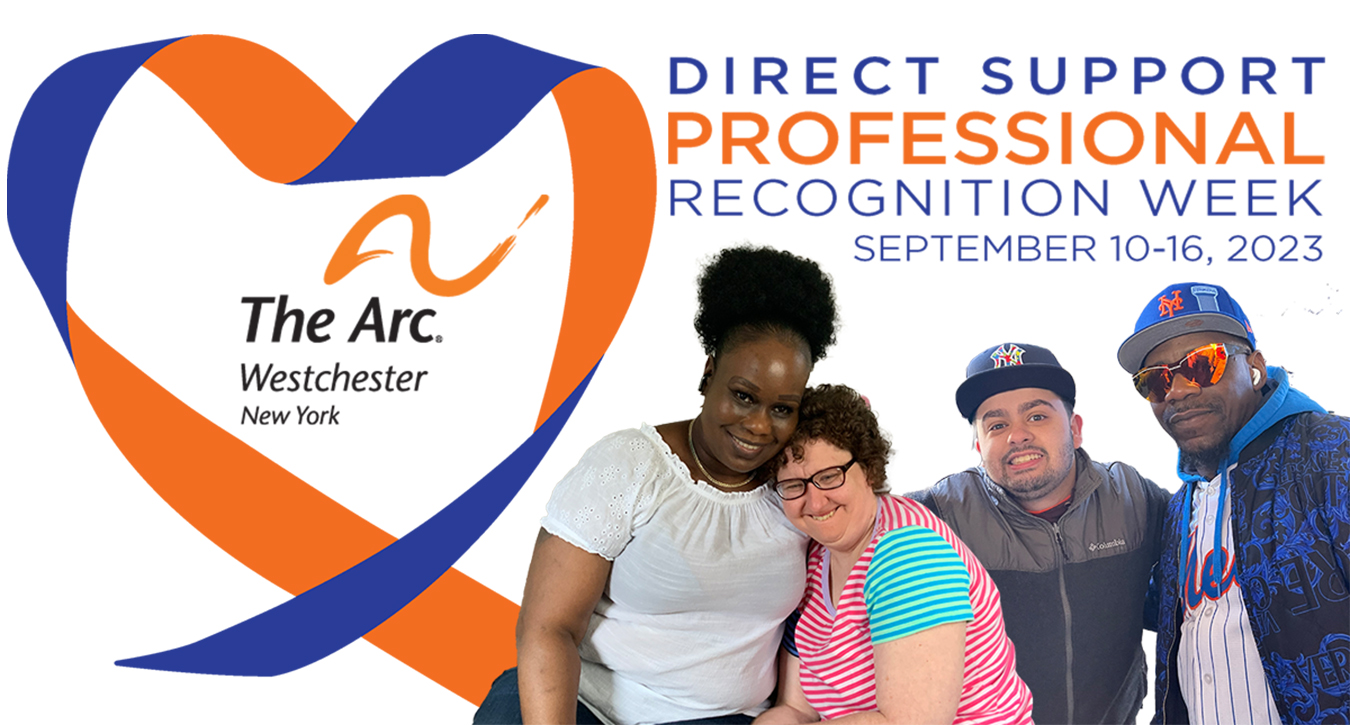 Direct Support Professionals Week 2023
During Direct Support Professionals Week (September 10-16, 2023), we want to express our heartfelt gratitude to the dedicated individuals who are at the center of The Arc Westchester. Our Direct Support Professionals (DSPs) make an difference in the lives of the people we support, day in and day out.
DSPs go beyond their job descriptions by taking the time to understand the unique interests and passions of those in their care. They empower individuals with developmental disabilities to achieve greater independence and live a full life.
Their compassion and professionalism underscores their commitment to our mission, vision, and values. Through their unwavering dedication, DSPs not only support individuals but also strengthen our entire community.
At The Arc Westchester, we believe in helping people lead meaningful lives and become fully contributing members of their communities. DSPs play an indispensable role in making this belief a reality. They are the driving force behind our organization, and we couldn't fulfill our mission without their tireless efforts.
As we celebrate Direct Support Professionals Week, let us honor and appreciate these remarkable individuals for the incredible work they do year-round. They are, without a doubt, the heart and soul of our organization, and we are  grateful for their invaluable contributions.
To honor our DSPs and express our appreciation for their hard work and dedication, during this special week we will personally distribute $50 Shoprite Gift Cards and Cookies to all our direct support staff. The gift cards and cookies have been generously provided by The Arc Westchester Foundation. Leadership staff will visit multiple residences and day service sites to personally thank them for all the support and dedication they provide all year long. Several local dignitaries including Mayor Mike Spano, Assemblyman J. Gary Pretlow and Senator Shelley Mayer, will also visit several residences and extend their appreciation. (keep posted for photos!)
Become a Direct Support Professional! 
Direct Support Professionals (DSPs) have always been at the heart of The Arc Westchester. It is only because of them that our mission of supporting individuals with Developmental Disabilities throughout the arc of their lifetime is possible. These everyday frontline heroes work throughout Westchester County, ensuring that our  2,000+ individuals live fulfilling and independent lives.
DSPs play an important role in strengthening our community and fulfilling our mission. DSPs work hands-on with the individuals who live in our agency residences and/or receive services at our various Day Habilitation sites. They serve as the day-to-day advocate and support staff for them. DSP's provide our individuals with: training, guidance, direction, assistance, and general support in all facets of their life. Along with providing Person Centered activities, DSPs constantly search for ongoing opportunities for personal choice, integration and independence within an individual's home and in their community.
The Arc Westchester offers flexible hours and a comprehensive benefits package.
Full medical insurance, including dental and vision
Generous off-time policy
Education assistance program
Disability and life insurance, retirement plan
Flexible Schedule
Sign-On Bonus for DSP positions