Make a difference in someone's life...including yours!
Join a team of professionals dedicated to enhancing the lives of people with developmental disabilities. Working here is more than a job. It's an enriching experience, unlike any other.
At The Arc Westchester, you'll find a supportive environment, where it's easy to make new friends and get along with co-workers. You'll experience the satisfaction that results from helping someone build a better life. And you'll have plenty of opportunities for career advancement.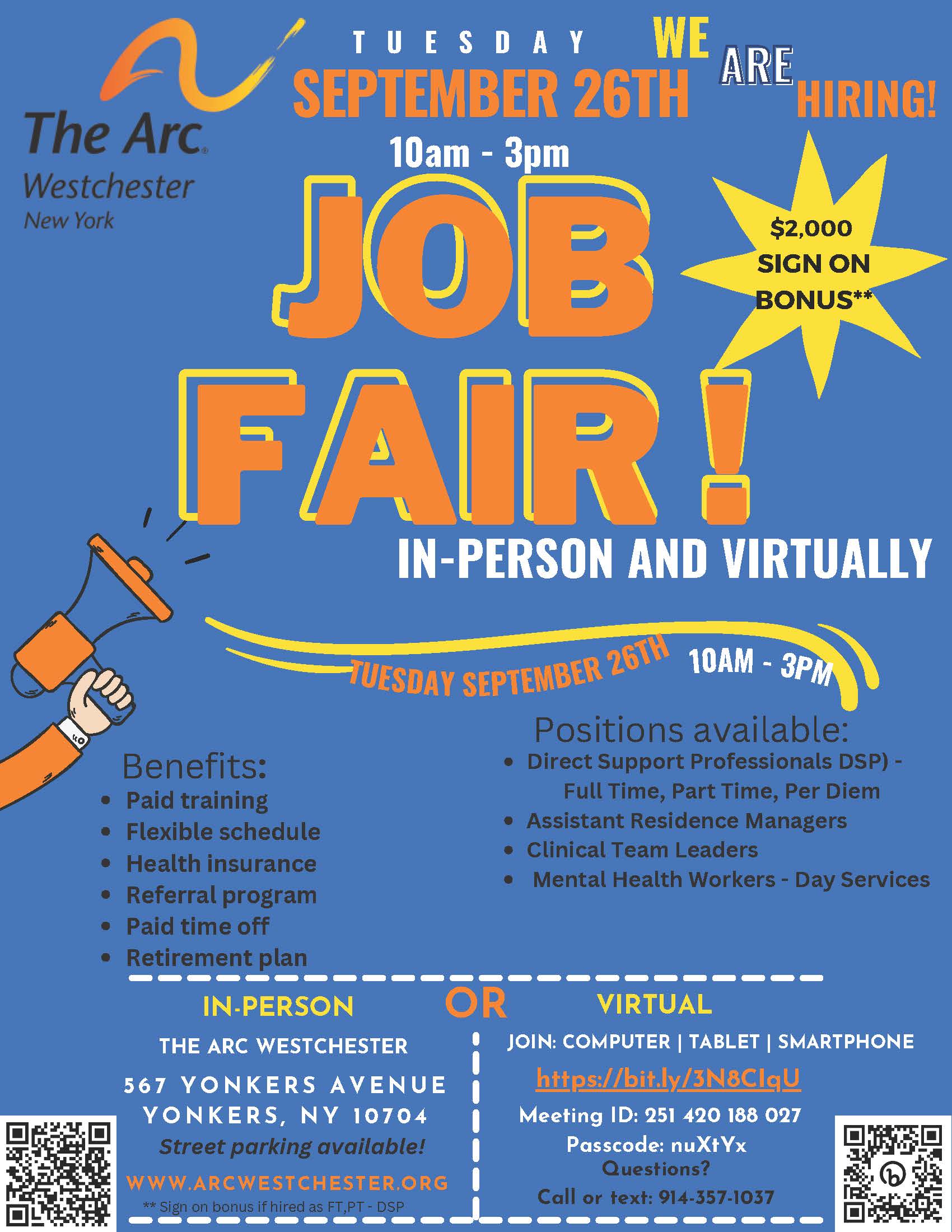 The Arc Westchester offers flexible hours and a comprehensive benefits package.
Full medical insurance, including dental and vision
Generous off-time policy
Education assistance program
Disability and life insurance, retirement plan
Flexible Schedule
Sign-On Bonus for DSP positions
The Arc Westchester is an equal opportunity employer. All employment practices are administered without regard to race, color, creed, religion, sex, national origin, age, marital status, sexual orientation, disability or veteran status.
Work at The Arc Westchester
Find the career that is right for you. We offer a wide variety of job opportunities throughout Westchester County. Please review our current job listings and send resume or inquiries to:
Email to: positions@arcwestchester.org
Mail to: Human Resources, The Arc Westchester, 265 Saw Mill River Road, Hawthorne, NY 10532
General  Inquiries: Call 914-495-4507
For Current Employees
Access information about all of the benefit programs and discount plans available through Arc of Westchester. You will also be able to view and download important HR forms, including direct deposit and FMLA forms. Secure logon access to all platforms.
700 Employees
700 employees support over 2000 people with development disabilities every day