Apr 22 2020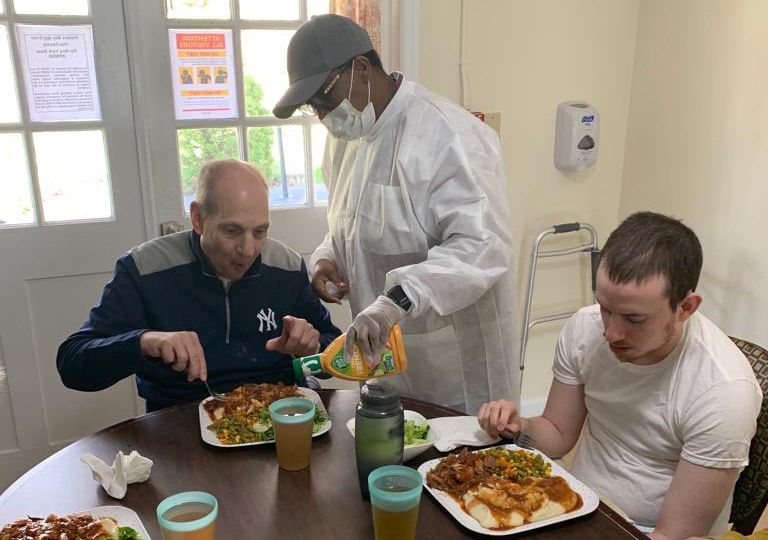 Direct Support Professionals (DSPs) have always been at the heart of our organization. From learning about individual interests and passions to helping people become more independent, our DSPs make a true difference in the lives of those we support each and every day. Their contributions have never been more apparent than they have been during the COVID-19 pandemic.
Our DSPs have been on the front lines during the Coronavirus crisis. They are similar to hospital staff as essential employees whose passion for caring and nurturing people we support is priority over keeping themselves safe at home. Over the last month we have heard amazing stories of these individuals going above and beyond to care for those living in our residences while they are on lockdown.
In our Bedford Men's home, two DSPs did not leave the residence for nearly two weeks in order to care for the individuals they support.  At our Scotts Place residence, staff and individuals have created more than 100 masks that have been sent to various locations throughout the agency as needed as well as to Caritas of Port Chester, a local soup kitchen and food pantry. Our heroic residential staff have also had to comfort others while grieving the loss of two of our beloved residents to the virus. And across the organization DSPs continue to prepare healthy meals, participate in activities and provide medical and emotional care as we navigate these trying times, which we know means so much to our families.
While it feels so inadequate, I wanted to send you and the entire Surrey Way team a note of thanks to let you know how grateful I am for the work you do for my brother Robbie and his housemates each and every day. I know that your jobs have become even more complex and challenging in this environment and I have the utmost respect and admiration for each and every one of you. You are true heroes like the other first responders.
~ Adele Rota and the Rigano family
The extraordinary acts of kindness and caring displayed by our DSPs on a regular day are nothing short of amazing. But, at times like these, it is abundantly clear that this is so much more than a job to them – and we commend them for their selfless commitment to supporting our individuals from the front-lines of this pandemic.