Apr 24 2020
Coronavirus (COVID-19) Update
A Message from our Executive Director/CEO
We continue to stay informed and closely follow all recommendations by the Office for People with Developmental Disabilities (OPWDD), The Arc New York, NY State Departments of Health (DOH) and the CDC.  We request all of us to remain vigilant in following the latest executive order extending a stay in place until May 15 set forth by Office of the Governor:
Wear masks and gloves whenever you are out of your home, traveling or engaging in necessary activities
Continue infection control protocol like hand-washing with soap and water frequently
Definition of face covering:  Face coverings include, but are not limited to, cloth (e.g. homemade sewn, quick cut, bandana), surgical masks, N-95 respirators, and face shields
We recognize we must continue to be vigilant and keep up social distancing,  preventive procedures and PPE supplies going strong.  Our staff have been informed of these new safety guidelines and we are providing staff with the necessary PPE whose job requires community interaction.
There has been a wide variety of media coverage surrounding some of our fellow organizations supporting people with developmental disabilities. You may view recent news segments HERE.
I want to share with you the impact that Coronavirus is having on all of us at The Arc Westchester. We are experiencing one of the most difficult times our organization has ever experienced in our 70-year history. With all of your help and support, we will get through this and all of us will be stronger because of it.
Unfortunately,  we have now lost three beloved individuals who lived in our residences and a long-time Foundation Board member to Coronavirus.  Several of our staff and friends have been personally impacted with the loss of loved ones. We have several confirmed cases among our staff and have had several people return to work COVID-19 free, so we also have encouragement that following infection control guidelines and practicing social distancing are working.  The entire Arc Westchester family is grieving the loss of these very special people and we wish all those with the virus to recover soon.
We are seeing that our consistency in taking all the necessary steps to prevent the spread of the virus within our homes and facilities is helping our residents and staff be safe. Our Board members and leadership are of great support and extend their sincere appreciation to each one of our brave staff returning to work in support of our mission.
The challenges and sadness we feel will not go away any time soon, however, we are deeply inspired by the commitment and ongoing dedication of our front-line staff who continue to support Arc Westchester in each of our residences. Every direct support professional and nurse have one of the most difficult jobs in our organization right now. Their ability and desire to keep nurturing and caring for the people they support is nothing short of heroic.  We have a shared mission and we are committed to do everything in our ability to make sure they are safe and the needed resources are available to them.
We are working diligently on making sure PPE supplies are constantly being ordered and distributed. We will get through this pandemic, and we will come out as a strong united organization and workforce with a shared humanity in making sure we support each other and our communities.
Below you will find trusted resources and guidance for responding to COVID-19. You will also see the protocols we are following and some of the steps we have made to continue our mission to support people with developmental disabilities. The health and safety of ALL members of our community is a priority.
The Governor's Office and OPWDD have designated The Arc Westchester as an ESSENTIAL SERVICE PROVIDER.  As such, we are exempt  from the Governor Cuomo that mandate businesses to have employees stay home from work.  We know you are aware that  we provided vital services to the people with developmental disabilities and they depend on us during this critical time.  You will find trusted resources and guidance for responding to COVID-19 below, and we will be updating these links regularly as the situation evolves. The health and safety of ALL members of our community is a priority.
In keeping with New York State Governor's initiative to stop the spread of COVID-19, The Arc Westchester has been notified by OPWDD to suspend all community outings and home visits for individuals living in our residences effective March 25. 2020 at 5pm.
We received notice from OPWDD that effective immediately we need to stop any visitors to our residences except when medically or clinically necessary. We are distributing signs in all our residences and staff are being briefed on the necessary procedures. We personally contacted families about this new order. We understand that this is an added disruption to our homes and families, but we must follow all rulings by the state to keep everyone safe.
We continually maintain routine communication with residents and families, either via email or another electronic platform, regarding the facility's efforts to prevent the spread of COVID-19. When one of our residences has a suspected or confirmed case of COVID-19, we communicate the information immediately to the residents and residents' families, loved ones, and guardians. If family members have any questions, we suggest they contact us or NYS Department of Health at icp@health.ny.gov, covidadultcareinfo@health.ny.gov, or covidnursinghomeinfo@health.ny.gov.
The Arc Westchester's Day Services Program, including Choices Neighborhood, was temporarily suspended on March 18, 2020. We realize the impact that suspension of our day programs has on our families, staff and the people we support, however, it is critical we follow precautions to limit the spread of COVID-19.
Effective April 1, 2020, our agency headquarters at 265 Saw Mill River Road, Hawthorne, NY will be closed to all visitors.  Only essential staff with security codes will have access to the building. Mail and package deliveries will be accepted during regular business hours. Please leave a message at our reception line at 914.949.9300 if you need access to the facility.
All community outings and home visits for individuals living in our residences have been suspended.  Our Residential Staff and Nursing teams are first responders to each individual's health. They support their daily needs in order to keep all members of the residence safe and prevent the spread of the virus. People who live in any of our residences, will be provided with Day Services in the residence in which they reside.
For those who reside in the community with their families, our Day Services staff we will share access to available resources and day supports.  Additionally, The Arc Westchester will continue to explore our ability to provide supports within the home for families that might prefer this option and for whom staff is available.
Our Wellness Center Clinic is an essential service and remains open with safety measures in place to both screen staff and individuals for clinic access, and continues to practice extensive cleaning and sanitizing. The clinic is pleased to be able to provide telemedicine by either telephone or Zoom to offer continuity of care during this time. Appointments are necessary. We will be screening any visitors to the clinic with a series of recent health-related questions. (see questions below)
All Children's School for Early Development class locations are closed for an indefinite period. Our teachers, therapists and support staff are meeting the needs of our students and their families using digital technology like Zoom to continue parent conferences, school district meetings, staff updates and setting up a Google classroom.
Essential Administrative functions will continue to make sure critical systems are running and access to crucial supplies are are available where needed.
To limit the number of people in our buildings at any time, remote work assignments have been put in place for staff that are able to do so. There are many other critical functions to running our agency, such as payroll, billing, mail, IT, communications, clinical, residential services, etc. that require our building to remain open.
We have an Emergency Management Team in place, working 24/7 reporting and acting on all issues pertaining to this crisis.  We are regularly reviewing our response plans and procedures to ensure the health and safety of our families, individuals and staff, while minimizing disruption of our operations, and continue to emphasize best practices for infection control.
The Arc Westchester is monitoring information and guidance from the Centers for Disease Control and Prevention (CDC) and the New York Department of Health (DOH), and working directly with The Office for People with Developmental Disabilities (OPWDD) and The Arc New York to address safety protocols specific to our field and the people we support
The Arc Westchester has taken steps to keep our community safe. Deep sanitizing has taken place and continues to take place daily using CDC/EPA approved products, sanitizing of the common areas and offices at ALL Arc Westchester locations.
In accordance with requirements from regulatory agencies and public health experts we are screening all visitors, including vendors, who want to enter any of our buildings. Visitors will need to respond to the following three questions prior to being given entry:
Have you traveled to another country in recent weeks? Which country?
To your knowledge, have you had contact with any Person Under Investigation for Coronavirus within the last 14 days, or with anyone known to have coronavirus?
Do you have any symptoms of a respiratory infection (e.g., cough, sore throat, fever, or shortness of breath)?
If any visitor answers "YES" to any of the questions, they will not be granted entry. We are requesting all screened visitors and staff entering one of our building sites to wash their hands or use hand sanitizer upon arrival.
Please be mindful of the following precautions, recommended by the New York State Department of Health to minimize contracting the virus which are very similar to the usual steps we take to avoid the cold and flu:
Stay home if you are sick. Avoid close contact with people who are sick.
Cover your nose and mouth with a tissue or sleeve when sneezing or coughing — do not use your hands.
Wash your hands often with soap and water for at least 20 seconds, or use an alcohol-based hand sanitizer.
Do not touch your face with unwashed hands.
Do not shake hands. Instead, wave or elbow bump.
If you have family or friends who are elderly, have compromised immune systems or chronic respiratory or coronary issues, do not visit them if you feel sick. Stay home and keep your loved ones safe.
Consider telecommuting.
Consider staggering working hours if you must go to work.
Clean and disinfect frequently touched objects and surfaces using a regular household cleaning spray or disinfecting wipes.
Get your flu shot. Although the flu shot will not protect you from COVID-19, it will help prevent the flu which has similar symptoms to this coronavirus.
---
For additional information, please visit the following websites:
NEW YORK STATE DEPARTMENT OF HEALTH (DOH)
Department of Health 24/7 Hotline: 1-888-364-3065
General Information and Updates
To receive regular updates on the latest developments text:
COVID to 692-692 (for updates in English)
or text  COVIDESP to 692-692 (for updates in Spanish)
Email:
icp@health.ny.gov
covidadultcareinfo@health.ny.gov or
covidnursinghomeinfo@health.ny.gov
THE CENTER FOR DISEASE CONTROL AND PREVENTION (CDC)
General Information and Updates
WESTCHESTER COUNTY DEPARTMENT OF HEALTH
Hotline Number 211
Information about Coronavirus (COVID-19)
THE ARC WESTCHESTER
914-949-9300
Message our contact page 
---
As a reminder, all family members and employees of The Arc Westchester who are ill should refrain from visiting an Arc Westchester location or any public location in the community as directed by the New York State Health Department.
The Arc Westchester is prepared to take any necessary steps as additional information comes to us from local officials.  Please reach out to your staff contact at The Arc Westchester with questions pertaining to you or your loved one or visit our contact page and send us a note. We welcome your comments and suggestions. You will also find links on our website to articles of interest, resources and learning activities. We invite you to view some of the information we have gathered.
We appreciate your help in keeping our community healthy. While we understand that this is a stressful situation, filled with much waiting and uncertainty, we hope that our continued communication and transparency helps to keep us all grounded during this difficult time.
To help understand Coronavirus (COVID-19) in simpler terms, check out this COVID-19 Plain Language Flyer .
This flyer was provided by the New York State Office of People with Developmental Disabilities (OPWDD).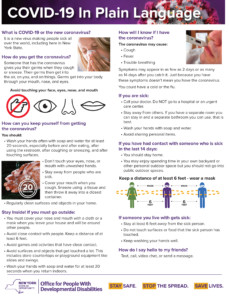 Sincerely,
Tibi
Tibi A. Guzmán
Executive Director/CEO