Apr 8 2020
Arc Mourns the Loss of Susan Bray Walker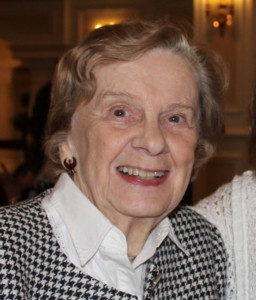 Susan Bray Walker
Family Member, Benefactor, Advocate
1930-2020
The Arc Westchester and The Arc Westchester Foundation board and staff mourns the loss of our dear friend and supporter Susan Bray Walker. She passed away on April 2, 2020 due to complications of Coronavirus. Susan was a family member, benefactor, founding member of the foundation board and advocate for all individuals with developmental disabilities. Our deepest sympathy is extended to the entire Walker family.
Susan was an extraordinary advocate for people with disabilities. Those she worked with remember her as a woman whose quiet voice never failed to raise matters of importance. Susan was dedicated to the love and well-being of her family. She took great pride in the accomplishments of her children and grandchildren and loved and supported them all unconditionally. She was predeceased by her daughter, Elizabeth Grace, who was a beloved program participant at The Arc Westchester. Her sons David and Will and adored granddaughter continue to carry on her legacy through their support and volunteerism with The Arc Westchester.
In honor of their mother, the family has requested donations to be made to The Arc Westchester Foundation in her memory. If you wish to make a gift in memory of Susan Walker, please complete the online form.
You may also send a check made payable to: The Arc Westchester Foundation and mail to The Arc Westchester Foundation, 265 Saw Mill River Road, Hawthorne, NY 10532. We will notify the family of your generous gift. If you have any questions, please contact Elyse Fowler, 915-495-4515 or email efowler@arcwestchester.org.