Thank you for making a gift in memory or honor of someone special in your life, or recognizing someone who lost their fight against COVID-19.
A gift in honor or memory of someone can be a meaningful way for friends and family to honor a loved one, celebrate a special day or recognize an achievement, all while supporting the needs of people with developmental disabilities.
We will recognize your gift with a note of acknowledgement to a designated name(s) about your thoughtfulness. Please indicate any special requests on the form below.
If you have any questions, please contact Elyse Fowler, 914.495.4515 or email efowler@arcwestchester.org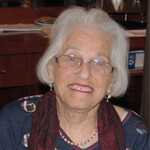 Rita Ross
1933-2021
The Arc Westchester staff and board mourns the loss of our dear friend and supporter Rita Ross of Chappaqua. She passed away on March 19, 2021. Rita is predeceased by her husband Mort and their daughter Laurie, a former recipient of Arc Westchester services.
More Ways to Give
Your Donation Dollars at Work
In the classroom
Our inclusionary preschool classes provide children with a strong foundation to build skills learning besides their peers. Over 80% of our graduates advance to community schools
At work
Our employment program supports individuals in fulfilling career opportunities at businesses throughout Westchester County. Their talents contribute to a diverse workforce and provide businesses with solutions to their staffing needs.
At home
Our residential services offers adults an opportunity to increase their independence, build relationships, enjoy an active lifestyle, and engage with the larger community.
In the community
Our program participants give back to the community in many ways. They volunteer thousands of hours to other non-profit organizations and businesses. Their creativity is shared through original artwork displayed and appreciated throughout Westchester County.
Annual Membership Minimun:
$15 Individual    $25 Family (up to four members)
The Arc Westchester and The Arc of Westchester Foundation are 501(c)(3) organizations. Donations are tax deductible.