Mar 8 2021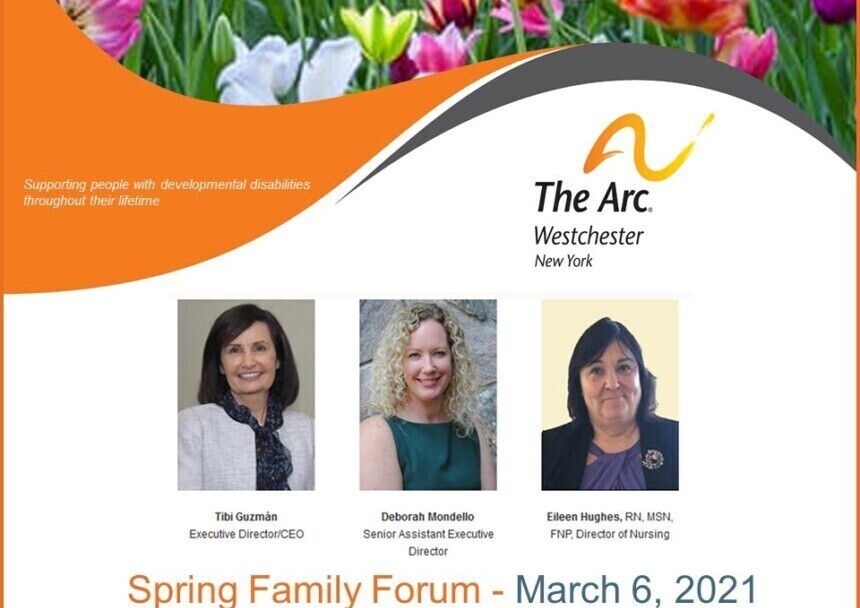 Arc Westchester families joined our virtual Spring Family Forum on Saturday, March 6.  We share ongoing information with families on a regular basis; however, this venue offered a broad overview of our current initiatives and support services. The panel answered questions and shared latest updates taking place at the local and state level.
Tibi Guzman, Executive Director/CEO, Deborah Mondello, Senior Assistant Executive Director and Eileen Hughes, RN, Director of Nursing, led the webinar and shared and overview of important updates families should be aware of.  Tibi reflected on the past year since COVID-19 first entered all of our lives and discussed our ongoing response to the many challenges we continue to face. They presented an overview of our protocols, infectious rate and details on vaccine distribution. Our Director of Nursing shared information about the science behind the vaccine and the different types of vaccinations that are available to our communities.
The virtual meeting offered information on the NYS Budget and an overview of advocacy initiatives that we encourage families to convey with their legislators.
You may review the entire broadcast below and feel free to email any questions you may have to info@arcwestchester.org