Feb 12 2020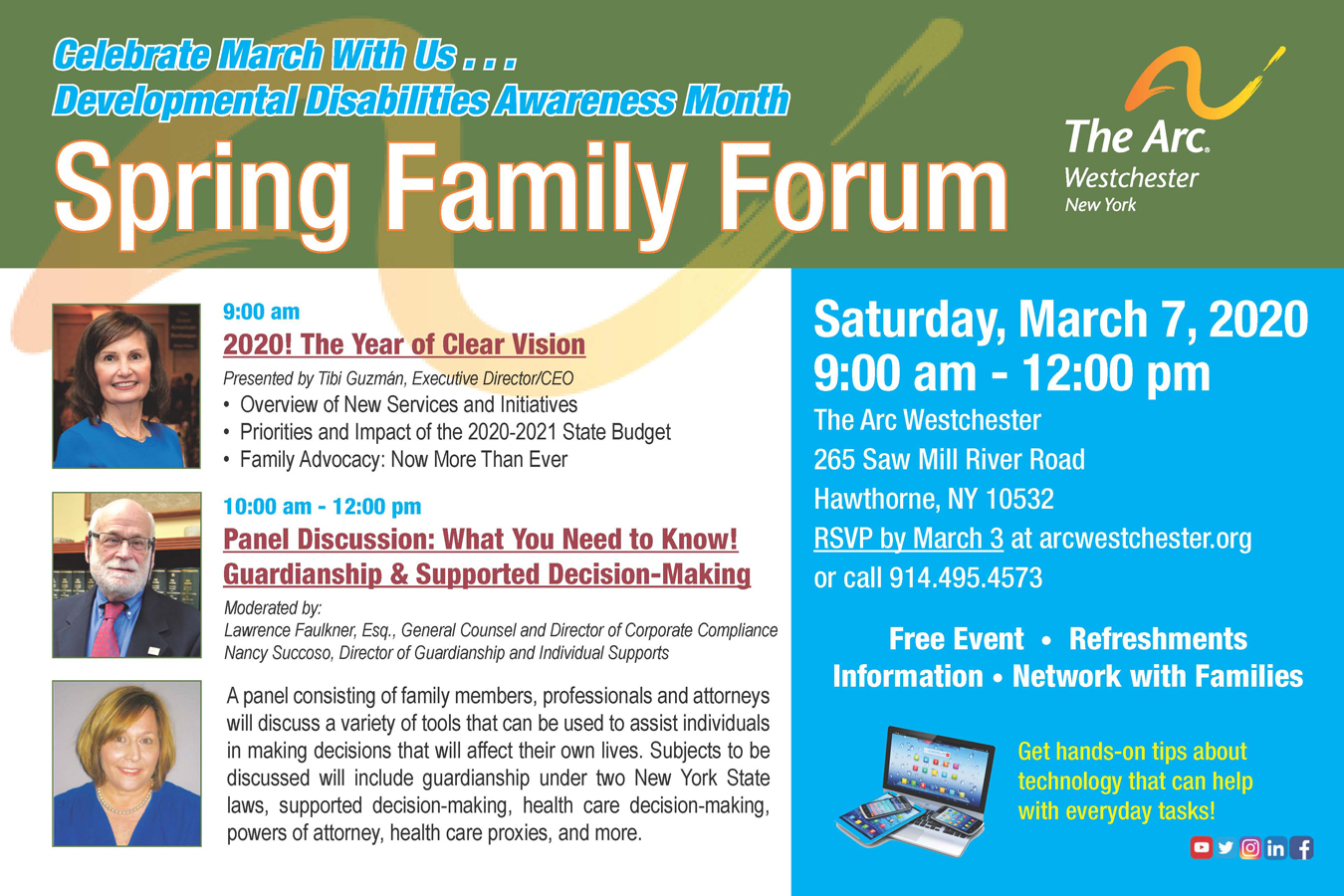 Event Canceled – Spring Family Forum 2020
Due to the Coronavirus outbreak, this event is CANCELED!
On Saturday, March 7, we will host our annual Spring Family Forum at our headquarters in Hawthorne. The event will provide parents, guardians and individuals with developmental disabilities the chance to have an intimate conversation with members of The Arc Westchester leadership, learn about the latest information impacting our organization and network with other families. March is Developmental Disabilities Awareness Month and this event is a great way to celebrate!
The free event will begin at 9:00 a.m. with a presentation from Tibi Guzman, our executive director and CEO, titled 2020! The Year of Clear Vision. She will provide an overview of our new services and initiatives, an update on the priorities and impact of the 2020-2021 State Budget and the importance of family advocacy.
Tibi's remarks will be followed by a panel discussion featuring family members, professionals and attorneys discussing a variety of tools that can be used to assist individuals in making decisions that will affect their own lives. Moderated by Lawrence Faulkner, Esq., general counsel and director of corporate compliance, and Nancy Succoso, director of guardianship and individual supports, What You Need to Know! Guardianship & Supported Decision Making will cover guardianship under two New York State laws, supported decision-making, health care decision-making, powers of attorney, health care proxies and more.
Attendees will also have the opportunity to get hands-on tips about technology that can help with everyday tasks.
Our Spring Family Forum will take place on Sat., March 7 from 9:00 a.m. – 12:00 p.m.