Sep 30 2021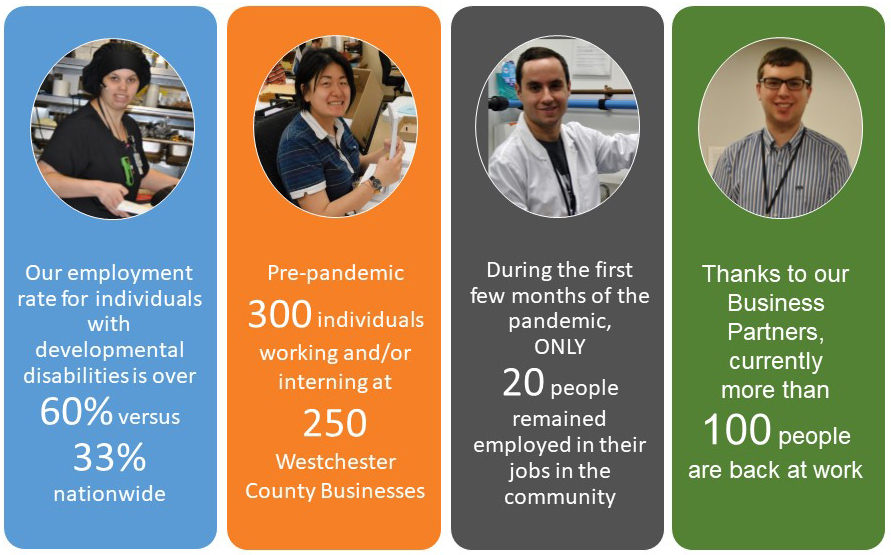 National Disability Employment Awareness Month 2021
October is National Disability Employment Awareness Month (NDEAM) –a time to commemorate the many and varied contributions of people with disabilities to America's workplaces and economy. The national theme for 2021 is "America's Recovery: Powered by Inclusion" reflecting the importance of ensuring that people with disabilities have full access to employment and community involvement during the national recovery from the COVID-19 pandemic.
The pandemic has been very challenging for all areas of our organization, including our Employment Program. Our team had to redesign our services in order to provide support ensuring our participating individuals were able to work on their skills throughout the health crisis, whether they continued to work in an essential business, worked from home or were furloughed. Skills such as socialization at your job, updating your resume, general communications, utilizing technology, and more were focused on for those at home. Those still working were provided supports in the field, at a safe distance. Many of our individuals were essential workers.
At The Arc Westchester, we focus on abilities, not disabilities, all year long. When it comes to employment, we measure what a person can do, not what they cannot. Our goal is for each individual we support to live up to his or her potential and pursue his or her dreams. While their disability may be a piece of their identity, we recognize that their skills and talents are a more important component and the reason that they are successful in their job. This philosophy has allowed us to develop an employment services program so successful that it has become a model for the state.
Zaro's, a fourth generation family bakery, moved into Westchester earlier this year and has hired seven individuals from The Arc Westchester since joining the community. They have been doing working interviews and assessments before our individuals are placed with them to help lay the foundation for success. They have been a wonderful partner, focusing on the abilities of our individuals and finding roles where they can be successful. Among the tasks some of our individuals are currency doing are packing bread, and boxing cookies and cakes.
Our team works with each individual and employer to seek work that meets a a candidates skills and interests while addressing the business staffing need. We are the bridge between the employer and the employee assisting both parties with a successful job match by practicing the steps below.
Job candidates utilize a video practicing tool to sharpen their productivity and accuracy

Interviews take place in-person or by hands-on demonstration

A step-by-step task schedule assists with mastering job responsibilities once the candidate is hired

No one job fits all, but successful outcomes are developed with a person-centered approach
We then ensure that, once hired, an Arc Westchester job candidate is integrated into the new workplace. We stay involved with our employees and employer partners every step of the way. For those employees who need regular assistance, a job coach is always on hand to help them perform their daily tasks and address any needs they may have.
Our Employment Program doesn't simply help people find work, we develop opportunities for individuals to achieve fulfilling and rewarding careers in our communities.
The Arc Westchester hosted a virtual panel discussion that focused on the benefits of having a diverse, skilled and inclusive workforce and how hiring individuals with disabilities can contribute to business goals, inspire a workforce and add to company culture. "Diversity, Equity & Inclusion: Successful Strategies and Business Benefits of Hiring People with Developmental Disabilities" was the topic of a panel discussion earlier this year.