Sep 18 2019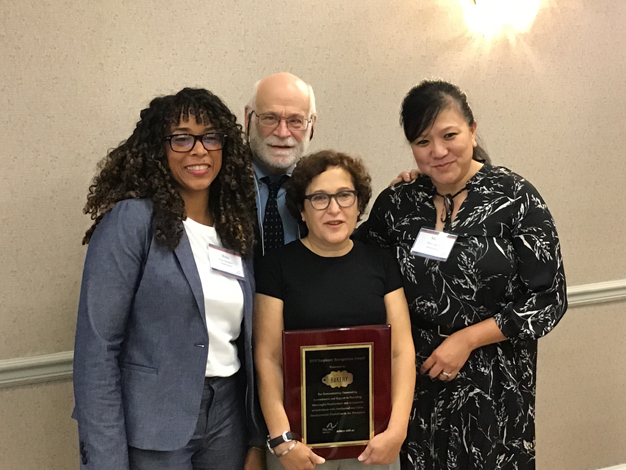 Employment Ambassador Recognized by The Arc New York!
Congratulations to Helene Godin and the staff at By the Way Bakery for receiving the 2019 Employer Recognition Award from The Arc New York!
Shown above from left: Rosa Rodriguez, Board Member of The Arc Westchester; Lawrence Faulkner, Esq., General Counsel and Director of Corporate Compliance, The Arc Westchester; Helene Godin, President/CEO By the Way Bakery; and Maria Varga, Coordinator Career Supports.
On September 13th, Helene Godin and By the Way Bakery were recognized at The Arc New York 2019 Employer Recognition Awards held in Albany, NY.  Rosa Rodriguez, Member of The Arc Board of Governors, Immediate Past President and Current Board Member of The Arc Westchester, presented Helene with The Arc New York award. Helene was also presented with a piece of artwork by one of our program participants.
Since 2016, By the Way Bakery has been a part of The Arc Westchester's network of more than 250 business partners, a group of forward thinkers whose enlightened employment practices provide job opportunities for individuals with developmental disabilities. Helene has been one of our strongest employment ambassadors. She believes that giving those with developmental disabilities a chance to be part of the workforce aligns with her company's mission to "Bake the World a Better Place" and adds to the overall texture of the workplace.
Helene and her staff know that each person is unique, and they do their best to support our individuals. The positive and supportive environment at By the Way Bakery has enabled The Arc Westchester participants to find pride and fulfillment in their work.
"Helene is truly one of the best ambassadors for our employment program, and she and her business have gone above and beyond in supporting our individuals," said Tibi Guzmán, executive director and CEO of The Arc Westchester. "We were thrilled to be able to nominate Helene and By The Way Bakery for their unwavering dedication to our organization and were ecstatic when we learned that she was going to be honored with this prestigious award."
The Arc New York also recognized Tioga Downs Resort Casino (Achieve), Adams Fairacre Farms (The Arc Dutchess) and Montefiore Medical Center (ARHC New York), at the Board of Governor's luncheon.
We congratulate all recipients with this well-deserved recognition!