Jan 30 2019

#bFair2DirectCare Action Alert!
BREAKING NEWS!
The Power of 1,000 voices. The Arc New York's 1,000 Person Rally, Albany, NY for #bFair2DirectCare Living Wage Funding Worked! Several representatives from the Governor's office stepping into the War Room to publically declare that the Governor would not sign a budget that did not contain a wage increase for our DSPs. Tibi Guzman, Executive Director/CEO of The Arc Westchester, made the trip with several of our family members and support staff to have their voices heard.
KEEP POSTED FOR ADDITIONAL DETAILS WHEN WE RECEIVE MORE INFORMATION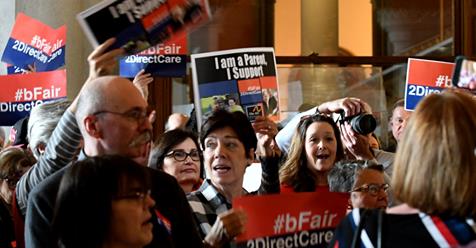 Tell Governor Cuomo to #bFair2DirectCare!
He is not keeping his promise!
Direct Support Professionals (DSPs) are such an important part of the work we do, and we know how much our families value them. You cannot put a price on the support they provide for families. However, Governor Cuomo's Executive Budget proposal fails to include the funding necessary to give DSPs a fair, living wage. This could impact the number of people interested in doing this vital work.
Encourage Governor Cuomo to correct this omission and add the #bFair2DirectCare living wage funding in his budget proposal!
We are asking our Direct Support Professionals, Parents, Self Advocates and Friends to reach out and let their concerns be known.
There are several steps you can do TODAY: CALL 518-474-8390 (option 1)
Here are some examples of things you can say:
I am a [DSP, Parent, Self Advocate, etc.] and in support of the #bfair2directcare campaign
The developmental disabilities community is in a crisis. Right now, Direct Support Professionals (DSPs) across.
New York State are making just above minimum wage and can barely make ends meet, despite the difficult and vital work.
These low wages for DSPs have lead to high vacancy and turnover rates, leaving a devastating impact on the individuals and families DSPs support.
This impacts/ concerns me because [Insert reason why #bFair2DirectCare is important to you.
Please add the #bFair2DirectCare living wage funding DSPs deserve to your budget proposal.
POST ON SOCIAL MEDIA:
Share with the Governor why #bFair2DirectCare funding for DSP is need and why it's important to you!
Tag @nygovcuomo in tweets and @GovernorAndrewCuomo in Facebook posts.
Use #bFair2DirectCare in all posts!
Sample tweet: Low wages for DSPs have a devastating impact on families like mine! @nygovcuomo please add #bFair2DirectCare living wage funding DSPs deserve to your budget proposal!