Supporting Individuals Throughout Their Lifetime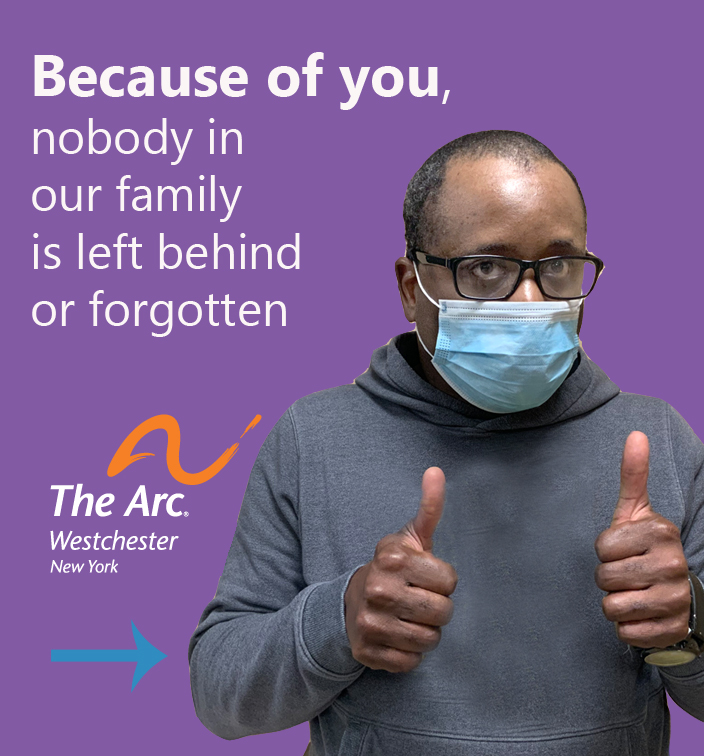 Your generosity demonstrates an understanding that ensuring a continuum of safe and healthy services for the children, teens, adults and seniors in our programs, and their families, especially during these challenging times, is our top priority.
Your support during this pandemic, and beyond, enables us to always be here, providing excellent programs and services. You inspire us to pursue new, innovative ways to deliver these vital services that enrich the lives of people with developmental disabilities. They are counting on us — we are counting on you. Because of you, and your commitment to our family, we will do more than just survive, we will thrive. Embraced by a bond so powerful and strong, not even the test of trials or troubles can breach it. Because of you, nobody in our family is left behind or forgotten.
Special Events Coming Soon!
Your contribution to The Arc Westchester Foundation's enables us to continue to meet the needs of The Arc Westchester to provide innovative services to the people we support. Thank you for being a valued friend.
Your Gift Makes You A Member!
Annual Membership Minimum:
$15 Individual    $25 Family (up to four members)
The Arc Westchester and The Arc of Westchester Foundation are 501(c)(3) organizations. Donations are tax deductible.
Your Donation Dollars at Work
We are extremely grateful to the organizations below who responded to our immediate need by providing grants and funds that are supporting the high demand of Personal Protective Equipment (PPE) and a wide range of sanitizing supplies.
•  The Westchester Community Foundation
More Ways to Give