Oct 8 2018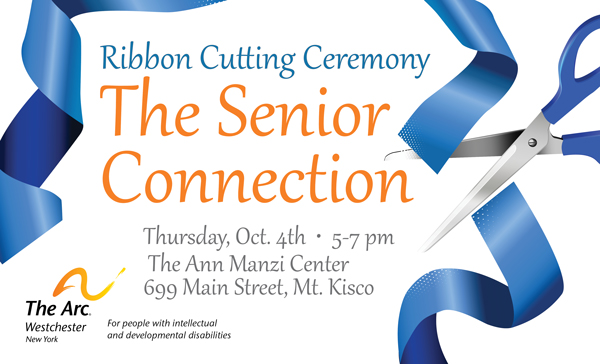 Celebrating the Opening of The Senior Connection at The Ann Manzi Center
The Arc Westchester recently launched the first phase of a new offering called "The Senior Connection" at the Ann Manzi Center in Mount Kisco. We celebrated this exciting occasion with a ribbon cutting ceremony on Thursday, October 4. The Senior Connection will support the needs of people as they age, offering individuals a safe space where they can interact with peers as well as young people through various activities. We were joined at the event by local dignitaries including Mount Kisco Mayor Gina Picinich, Mount Kiso Deputy Mayor Jean Farber, Northern Westchester Hospital President/CEO Joel Seligman and Hudson Valley Coordinator of Community Supports and Services (OPWDD) Debbie Newman.
Aging is a part of the 'Arc' of a life and, currently, 35% of our day services participants are over the age of 50 (with the oldest participant being 91 years old). To accommodate the needs of this aging population, The Senior Connection takes a holistic approach that is centered on dignity in a supportive environment. Through the new program, individuals can engage in age-appropriate activities geared towards health and wellness while being social, fun, stimulating and relaxing. Activities may include yoga, chair exercise, dance, music, tai chi, pet therapy, board games, gardening and art. The Arc Westchester will also collaborate with local senior centers on events, giving program participants the opportunity to socialize with the larger community.
Over the last 12 months, the majority of the Ann Manzi Center's main level was transformed and is now dedicated to senior offerings. The modified space includes a lounge/living room with a fireplace and TV, as well as a library/game room. To promote accessibility for all participants, The Senior Connection features a handicapped bathroom with a shower, simulated wood to eliminate trip hazards, and handrails throughout the space.
During the ribbon cutting celebration, Nancy Patota, executive director, The Arc Westchester Foundation, announced the second phase of The Senior Connection: an outdoor patio space and accessible nature walking trail. The project will cost $1 million and, recently, a benefactor generously donated $250,000 to support the extension.
The Ann Manzi Center also houses our Youth Connection Studios, which offers young adults the opportunity to build employment skills and experience life through community engagement. The addition of The Senior Connection allows ample opportunities for intergenerational activities with participants in both groups.