Oct 25 2018
15th Annual "A Matter of Taste" Highlights
Nearly $400,000 raised for children and adults with developmental disabilities
The Arc Westchester Foundation, which is dedicated to increasing public awareness and raising financial resources to support The Arc Westchester's programs and services for those with intellectual and developmental disabilities, is pleased to announce that nearly $400,000 was raised at its 15th annual "A Matter of Taste" fundraiser. More than 300 supporters attended the event on Tuesday, October 16 at Glen Island Harbour Club in New Rochelle.
The evening featured delicious cuisine prepared by some of Westchester County's finest chefs, accompanied by prestigious wine and craft beers, as well as a silent auction and IMPACT Gift/paddle raise. Nearly 30 culinary and beverage participants served attendees at this year's event.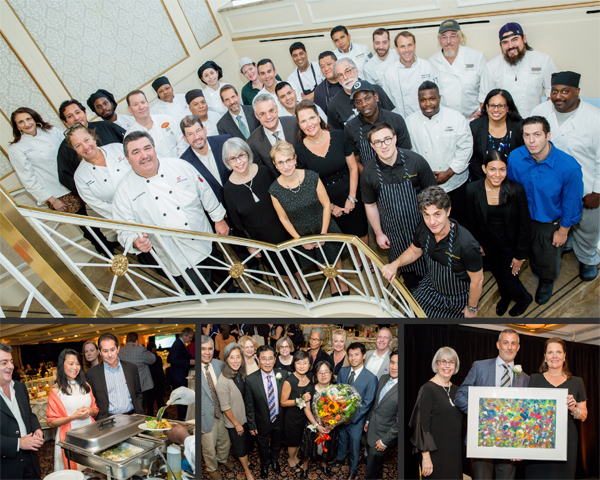 The evening also featured two awards of recognition.
The Wong Family received the Family Partner Award for their unwavering support for The Arc Westchester. Elsie and Yen Wong are the proud parents of two sons and a daughter, Jennifer, who was born in 1976 with Down syndrome. The Wongs became one of the legions of families impacted by intellectual and developmental disabilities. After exceeding expectations with her graduation from Irvington High School, the Wongs set their sights on helping Jennifer find a job. Through The Arc Westchester's employment program, Jennifer received a job coach and training in office skills. She was successfully employed by the Westchester County Clerk's Office and then moved on to the law office of Boies Schiller Flexner LLP, where she has been a valued employee for the past 15 years. Since 2014, Jennifer has resided at The Arc Westchester's group home in Scarsdale.
The evening's second honoree was ABB OPTICAL GROUP/DIGITAL EYE LAB Network, which received the Corporate Partner Award for its commitment to giving people with intellectual and developmental disabilities the chance to be contributing members of the workforce. The company employs eight full-time individuals at their Hawthorne location. They have proven to be a perfect employer partner to our organization.They make sure the employees are given the opportunity to strengthen their job skills and increase productivity.
Thank you to everyone who supported A Matter of Taste—we couldn't have done it without you.
The evening's program journal with our generous sponsors can be viewed online below: