Oct 20 2017

A Matter of Taste 2017 Breaks Fundraising Records
A Matter of Taste 2017 Breaks Fundraising Records, Showcases Westchester's Best Chefs
More than $400,000 raised for children and adults with developmental disabilities
On October 17, more than 30 restaurants and caterers served up their best dishes at the Glen Island Harbour Club at the 14th Annual "A Matter of Taste", Arc of Westchester Foundation's signature food and wine event. It was a record-breaking year once again with more than $400,000 being raised to support Arc of Westchester. This year, over 400 guests joined us for this wonderful event, and we are so grateful for their generosity.
A Matter of Taste is truly a highlight of our year, allowing us to reconnect with old friends and meet new ones, celebrate the accomplishments of those we support and look forward to a brighter future.
One of the highlights of this year's event was the premiere of our new video "No Limits", which illustrates the enormous cultural change that has occurred over the past 35 years in the way Arc of Westchester supports people with intellectual and developmental disabilities.
In addition, we were thrilled to bestow two awards of recognition: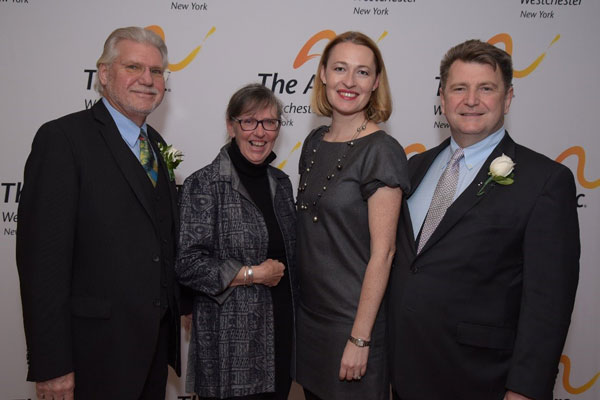 Family Partner Award Winner: The Landegger Family
While the Landegger Family's history of charitable giving was established many years ago, the birth of Ian Landegger, 13 years ago, brought into focus the needs of people impacted by developmental disabilities. Ian's parents, George and Laura Landegger, have first-hand experience raising a child with special needs, making them keenly aware of the rewards and challenges families like theirs, and individuals like Ian, face every day. Laura has been an invaluable member of the A Matter of Taste event committee over the years, and she and George have encouraged many friends and family members to get involved. In addition, Laura's creative eye played an integral role in selecting pieces for the first Arc of Westchester Gallery 265 permanent collection.
Legacy Award: Richard P. Swierat, Arc of Westchester Executive Director
During his 35 years as Executive Director of Arc of Westchester, Ric Swierat has become a guiding light of the Arc Movement. Ric's tenure began during a time when people with intellectual and developmental disabilities ("I/DD") were coming out of institutions, where they had been treated as objects or worse. He has spent his entire career correcting that injustice, focusing on promise and potential so that people with I/DD would be able to function and flourish in their communities. An inspiring leader of a staff of more than 800, Ric has pulled, pushed and prodded government officials, boards of directors, the business community, staff members, and even parents to achieve this vision of inclusion, individual choice, independence and productivity. Crystalizing the desires of the families who form the core of the Arc mission, Ric has kept Arc of Westchester in the vanguard with extraordinary successes, such as moving preschoolers from self-contained classes to inclusionary settings, and closing sheltered workshops in favor of community-based, paid employment.
Upon accepting the award, Ric said, "While I'm being recognized for my time in the chair, it's important to me, and it should be important to you, that this journey continues. We must continue to stress the importance of a society that accepts everyone, with all skills and limitations, so we can make our world a better place."
Thank you to everyone who supported A Matter of Taste—we couldn't have done it without you.
The evening's program journal with our generous sponsors can be viewed online below