Oct 30 2015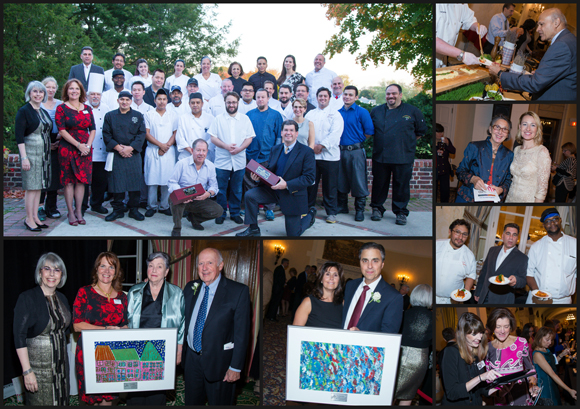 A Matter of Taste 2015: A Night to Remember
The Arc of Westchester Foundation hosted our annual food and wine event, A Matter of Taste, at the renowned Westchester Country Club in Rye on October 20, 2015. The evening was filled with delicious foods from local restaurants, prestigious wines and beers, and over 400 attendees – a record crowd! This year our live and silent auctions helped us raise nearly $300,000, to support all of our comprehensive and innovative programs and services for people of all ages with developmental disabilities, including autism.
Everyone commented about the fabulous culinary fare, beverages and desserts served during the evening. Nearly 30 of the area's top chefs tantalized our taste buds. Some of the menu highlights included: Sauteed Mushroom Toasta and Pumpkin Infused Pesto from NoMa Social in New Rochelle; Arepa with Avocado and Chicken Mousse from Sonora in Port Chester; Peanut Sesame Noodles and Sliced Cucumber with Cilantro from WUJI in Scarsdale; Balsamic Infused Chocolate Truffles from The Twisted Branch in Valhalla; Flank Steak with Horseradish Mash Potatoes from Texas de Brazil in Yonkers, and Mom's Famous Meatballs with Ricotta and Marinara Sauce from North Street Tavern in White Plains.
Guests enjoyed sampling fine wines graciously provided by Deutsch Family Wines and Spirits and craft beers from Yonkers Brewing Company and Captain Lawrence.
Our silent auction offered unique and exciting items. There were some outstanding items, such as Yankees Legend Suite tickets, 18K gold jewelry, designer handbags, baskets of delicious wine and fine dining gift certificates.
The program began with the debut of a moving video "Unlocking Potential" that shared the story of Bob Smith. He is a man with cerebral palsy whose life has dramatically been transformed by Arc of Westchester.
We then recognized individuals that have made a significant impact on our organization. Westchester community services power couple John and Katharine Wilson Conroy and Joseph Saccomano representing Jackson Lewis P.C. received the Lifetime Achievement Award and Business Partner Award, respectively. Excitement grew among the crowd as word spread about an important announcement planned for at the close of the event program. Our live auction overflowed with attendees and some of the biggest draws resulted in lively back-and-forth bidding for prime tickets to the Metropolitan Opera along with trips to Tuscany, China and the Kentucky Derby.
At the end of the live auction and award ceremony, bright Hollywood lights began to flash, celebratory music played and Campaign Co-Chairs Bill Healey and Laura Saggese took the stage to make the big announcement of the evening: the public launch of Arc of Westchester Foundation's The Arc of a Life Campaign. This $6 million campaign has raised more than $3 million in donations and commitments, and it will now aim to generate an additional $3 million through public outreach.
We wish to thank everyone who helped make this evening such a success. Our generous donors are so important to us and we truly appreciate their participation in our events all year long.