May 19 2021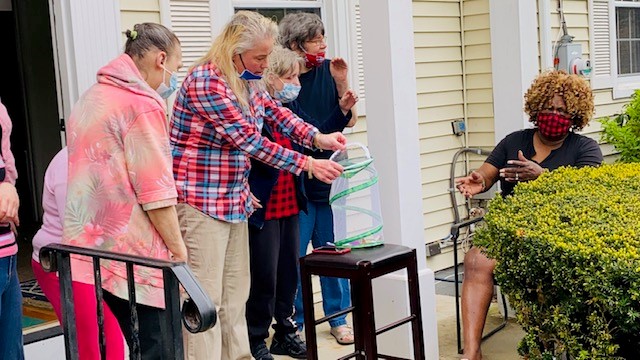 The residents of our Mamaroneck Manor home in White Plains recently celebrated spring and the renewal life in a very unique way. The Arc Westchester Day Services staff Lisa Marino and Juliana Anokyewa introduced a butterfly kit, including live caterpillars, to the residents for them to nurture and eventually set free.
Butterflies are often considered beautiful representations of the various stages of life. The housemates nurtured and watched the caterpillars grow every day for over two weeks. The project introduced new words such as metamorphosis, cocoon, larvae, etc. and it opened wonderful conversations about life cycles and nature. They were all excited to be part of the humble beginning of the caterpillar stage to the dramatic transformation into a butterfly.
The group also took this as an opportunity to celebrate everyone's hope for renewal. They held a pizza release party and invited family members and fellow friends who attend our Greenridge Day Services Program.
Releasing butterflies into the wild is a wonderful way to pay tribute to any important moment in life. Many cultures equate the butterfly with the endurance and hope of the human soul. After a year of COVID-19, this was a great way for everyone to celebrate and feel renewed.