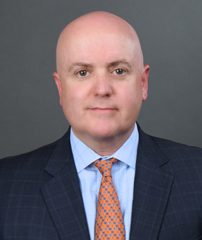 Jeff Wood was elected president of The Arc Westchester on June 7, 2022. Mr. Wood is a Glens Falls, NY native who has been an active member of chapter since 2012.
From 1990 to 1994, he was a student-athlete at St. Bonaventure University, playing ice hockey and graduating with a Bachelor of Business Administration degree in Accounting and Finance.
In 1997, Mr. Wood left an auditing position with KPMG to accept an appointment as a Special Agent with the U.S. Secret Service.  He spent the next twenty-four years completing global protective and investigative assignments for agency divisions located in New Jersey, New York and Washington, DC.  He retired in 2021 as the Special Agent in Charge of the William Clinton Protective Division in Chappaqua, NY.
He currently works in a corporate security role for the BMW automobile corporation in the Americas Region.
Jeff is married to Christina, a Yonkers native.  They have a son, Nate and a daughter, Caroline.  Caroline is a proud alumna of the Children's School for Early Development at the Country Children's Center in Katonah. Jeff serves on several board committees and is an active committee member for the Children's School annual fundraiser, Golfing for Kids.