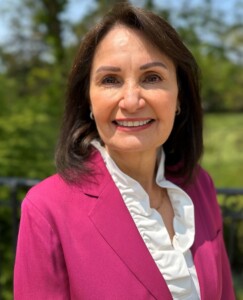 Tibi Guzmán was appointed Executive Director and CEO in June, 2018. Prior to her appointment, she was the Associate Executive Director and Chief Operating Officer at The Arc Westchester. She is part of the leadership team for the last 13 years overseeing different aspects of the organization, starting with Wellness Center for Diagnostic and Therapeutic Services followed by programs to enhance life skills and career support services. In this capacity, Ms. Guzmán was integral in redesigning prevocational services to better prepare individuals for employment in the community, introduced UNC TEACCH… framework to enhance performance.
As COO, she oversaw an operating budget of 56 million with services ranging from Early Intervention/Preschool, programs for students transitioning from High School to supports for adults residing in our 44 homes. Ms. Guzmán came from the Healthcare field as an Executive Vice President of St. John's Riverside Health Care Inc., a multi-healthcare system in Yonkers NY. Additionally, Ms. Guzmán was recently a board member of the New York State APSE chapter and participated in local I/DD, mental health, behavioral services, education and fund-raising boards. Ms, Guzmán sat on the Westchester County Department of Community Mental Health, Community Service Board for more than 12 years, and certified as a Fellow of the American College of Health Care Executives. Ms. Guzmán community participations include serving on the Board of Education for Bronxville Schools for six years and the Heartsong Inc. an art and music therapy program for children with developmental disabilities, board for more than 12 years as Treasurer and Program Chair.
Ms. Guzmán is a parent of an adult with autism and has two sons. She has a B.S. from Fordham University, M.P.S. from The New School for Health Service Administration and a M.A. in Economics from Fordham University. She was named on of Westchester's Top Woman in Business by 914Inc. Magazine in 2018 and was honored with the Executive Excellence Award by The Arc US in 2022.